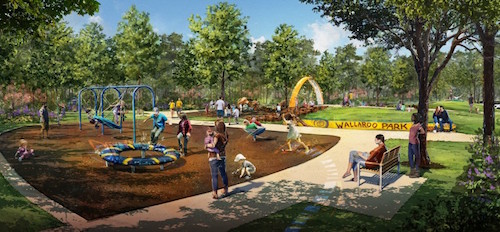 A master-planned community (MPC) in Woodforest will be the first in the United States to feature Sona Play Arch, a smart play structure, in Wallaroo Park. Sona Play Arch uses cameras to measure movement of people playing with it. It will have a play floor that features interactive colors and numbers, and spinner play pieces and LED ribbons that serve as water misters. It also will be accessible for children with mental and physical disabilities.
"Wallaroo Park will perfectly complement our traditional playgrounds, scooter park, spray park and other play spaces found in Woodforest, and carries on the whimsical animal theme found in nearby Fox Trail Park," said Virgil Yoakum, general manager of Woodforest. "Plus, the ADA accessible play equipment and park layout will let children of all abilities enjoy time outdoors."
In other Houston news:
Residences of the MPC Riverstone in Sugar Land are filing a lawsuit against the engineering firm Costello Inc. Costello designed the stormwater management systems for Levee Improvement District 19 and 15 to keep water from the Brazos River out of the areas and evacuating rainwater from the LIDs. However, the lawsuit claims that several feet of water filled the streets and homes in LID 19, but that did not occur in LID 15.
Coventry Homes and Plantation Homes opened new model homes in League City. The new homes are showing designs for 60- and 70-foot home sites within the MPC Hidden Lakes. The Plantation model provides more than 2,800 square feet of living space with 14 design options.
Bridgewood Property Co. announced construction on a 17-story luxury senior living community in Southampton Place. The community, The Village of Southampton, will offer 204 total units made up of 108 independent living units, 68 assisted living units and 28 memory care units. It is expected to open in spring 2020.
Kingwood Cove Apartments recently completed its $6 million renovation after Hurricane Harvey. It is one of the first multifamily complex in the area to reopen after the devastation in August.
Leslie Lerner Properties is celebrating its five-year anniversary. To mark the milestone, the company recently added two new agents to the company and is hoping to have three more over the next year to expand deeper into the Houston suburbs.