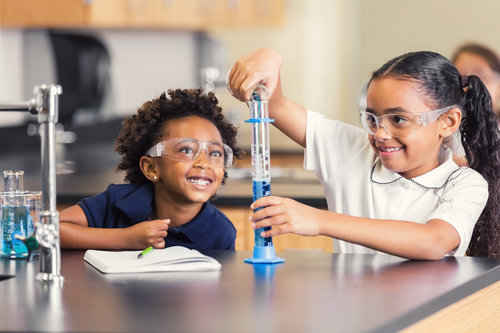 Children at Risk released their 2018 statewide rankings for 191 Texas elementary, middle and high schools. This is the 13th year the nonprofit organization has put out the list.
Children at Risk based their elementary and middle school rankings off three factors: student achievement, achievement and poverty (performance) and student growth. High schools were ranked with the three factors as well as college readiness.
The achievement indicators are based on students performance on STAAR Reading and Math tests. Performance indicators adjust the achievement indicators get rid of bias for schools with lower percentages on economically disadvantaged students. Growth indicators are based on standardized test scores that improved in math and reading. College readiness looked at graduation rates, SAT/ACT scores and AP/IB rates and scores.
Children at Risk found that 56 percent of students are categorized as economically disadvantaged in Houston and 58 percent of students statewide are in the same category.
Additionally, 9 percent of Houston-area schools were labeled gold ribbon schools, meaning at least 75 percent of the student body is economically disadvantaged, but the school is not a magnet or charter school and still has an A or B ranking.
While the top elementary school in Houston did not rank first in the state, it still made it in the top ten. T.H. Rogers school received an A+ grade from Children at Risk and placed seventh on the statewide list. It was the only Houston elementary school to make the top ten.
| | | | |
| --- | --- | --- | --- |
| Houston Rank | School | District | State Rank |
| 1 | T.H. Rogers School | Houston ISD | 7 |
| 2 | Creekside Forrest Elementary | Tomball ISD | 11 |
| 3 | Commonwealth Elementary | Fort Bend ISD | 13 |
| 4 | Horn Elementary | Houston ISD | 14 |
| 5 | River Oaks Elementary | Houston ISD | 17 |
| 6 | West University Elementary | Houston ISD | 20 |
| 7 | Houston Gateway Academy – Coral Campus | Hosuton Gateway Academy INC | 21 |
| 8 | Harmony Science Academy – Sugar Land | Harmony School of Science – Houston | 23 |
| 9 | Devers Elementary | Devers ISD | 24 |
| 10 | Kipp Sharp College Prep | Kipp INC Charter | 28 |
| 11 | Galatas Elementary | Conroe ISD | 31 |
| 12 | Cornerstone Elementary | Fort Bend ISD | 32 |
| 13 | Wilchester Elementary | Spring Branch ISD | 42 |
| 14 | Collins Intermediate | Conroe ISD | 46 |
| 15 | Houston Gateway Academy INC Elite College Prep | Houston Gateway Academy INC | 48 |
| 16 | Pope Elementary | Cypress-Fairbanks ISD | 50 |
| 17 | Buckalew Elementary | Conroe ISD | 52 |
| 18 | Deretchin Elementary | Conroe ISD | 55 |
| 19 | Rummel Creek Elementary | Spring Branch ISD | 57 |
| 20 | Mandarin Immersion Magent School | Houston ISD | 62 |