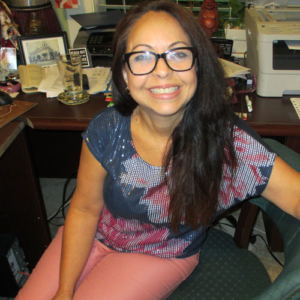 Name: Elena Quiroz
Job Title: Realtor
Company: Champions Real Estate Group
What was your first job in the realty industry? Apartment Leasing Agent/Assistant Maintenance
Where did you grow up? Born in Barranquilla, Colombia. Arrived to Houston in the 80s. I always say that I'm a Colombian by Birth by a Texan by Heart!
Growing up, what did you want to be? An orphanage director. Influenced by years of Catholic School, and nuns with very strong personalities.
What do you do to relax when you're stressed? I paint, and find a good craft project. I go into the rehabbing and re-purposing mode. I believe in recycling, making an old object come alive again. Some of my own pieces go into the staging of the properties I list. Others I donate to charity.
If you could have lunch with a well-known figure (living or not), who would it be and why? Tchaikovsky! I love his music full of drama, emotions and mischievings. I think it will be interesting to understand and talk about the complexity of transmitting human emotions with musical notes.
Where is your favorite place to hang out? International, it is Aruba all the way! Locally, I go for Coffee Giant Leap Coffee on the East End, and Eddie V's on Kirby for Happy Hour.
What do you love most about the industry? The diversity, the challenges and the fast pace. Everyday is different; we are in constant movement either mentally or physically. And closing days! The pinnacle of real estate transaction success.
How do you distinguish yourself from the crowd of agents? I specialize on probate, estate sales, divorce decree real estate sales, real estate sales under court proceedings, and investment properties. Very few agents can manage the complexity of this type of real estate. It has too many variables of emotions, money and legalities on top of the regular aspects of the normal real estate file. I can say that I bring organization and balance, and that actually sets me apart from the rest. On my secondary market, I bring my rehabbing consulting knowledge to the table to improve my clients net on their investment, and help buyers see the potential on any real estate. My attitude is all about great service, and that really shows on the projects I take on. No fake here!
What is the most difficult aspect of your job? The first one is making buyers and sellers understand the importance of timelines during the real estate transaction process. The second one is that we Realtors can not give legal advice. We are facilitators. So that part is widely misunderstood by the general public, and explaining it sometimes open cans of emotions that we Realtors must tone down with grace.
Where do you go to network and meet new clients? I am in constant networking mood. I engage people in conversation all the time. I enjoy building connections so this is easily done at any place. It can be done at the supermarket, coffee shop, happy hour, etc. Volunteering for a good cause or a project has always given me good results.
What has been your greatest accomplishment? In my line of work, I can say that is a constant one. Being able to turn around non-producing rental properties for my clients portfolios is one of my greatest achievements. I have fun doing it! On the personal level, I was able to organize and fund raise 96% of a 5 star Graduation Dinner for 100 High School Inner City Students so they could experience their success in an luxury environment. Something that very few kids coming from low income household ever get to experience. Their happiness at the end of the event has been my greatest accomplishment so far. I'm still alive so I think there is much more to do out there!
What was the last good movie you saw or book you read? The last book I read: "Eight Flavors: The Untold Story of American Cuisine" by Sarah Lohman. A must to read if you are into cooking and history. Movie: Wonder Woman! In this age of time, every woman is a Wonder Woman!
What is your favorite restaurant? In Houston, this one is a tricky question. So many flavors, and so many places to eat great food. Nidda Thai for Lunch on Montrose Area. Local Foods, Grace, Eddie V's. And any of the wonderful Vietnamese places on Milam and Midtown will do on a Sunday.
Architecturally speaking, what is your favorite building in Houston? Don't get me started, I can go on and on on this question. We have such beautiful buildings in Downtown Houston. Harris County Civil Courthouse building at Fannin built in 1910. I adore its neo- classical design and dome on the top. And the Esperson Building at 808 Travis. It has all the details of the Italian Renaissance Architecture. I love the story behind its construction. Built by Mrs. Mellie Esperson as a gift to her husband. Their two names are carved in the building entrance.
What kind of car do you drive? Lexus ES350
Smartphone or paper? I'm back to old fashion paper since my phone crashed and the cloud mistakenly, and mysteriously lost 700 of my contacts. Paper it is!
What is your favorite city after Houston? Aruba.
In 10 words or less, what is your advice for someone new to the industry? Don't be afraid to ask for guidance and mentorship.
What's your favorite real estate iPhone/Android app? My FirsAm, and Har.
Who are your favorite people to follow on Twitter? Don't follow on twitter – not time.
---
Want to be featured in our Agent Snapshot? Click here and complete this survey. Agent Snapshots are published on our website and shared in our newsletter and social media feeds.