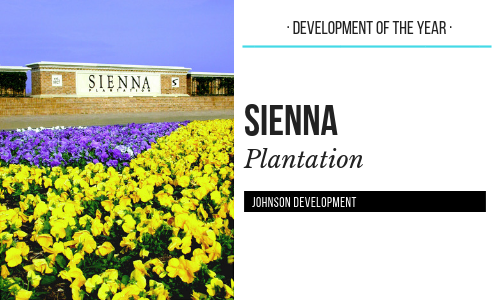 The top-selling master-planned community in Houston, Sienna Plantation is known for a wide array of homes, numerous on-site schools, extravagant amenities and a vibrant lifestyle. Fifteen builders offer designs in Sienna Plantation base-priced from the $250,000s to more than $1 million. Twenty-four model homes are open in the community, giving prospective home buyers the chance to peruse the many available options for their new home.
While visiting, home shoppers can also learn about the numerous amenities available to Sienna residents, including more than 100 acres of parks and playgrounds, three water parks and other community pools, more than 35 miles of trails, eight tennis courts and a new tennis clubhouse, the 160-acre Camp Sienna, Sienna Plantation Golf Club and Sienna Stables Equestrian Center. It takes a team of event planners to manage the more than 75 events held annually in Sienna Plantation.
Sienna students can stay within the community from Kindergarten through 12th grade, courtesy of four Fort Bend ISD elementary schools, two middle schools and one high school. In addition, a number of preschools and day cares are on-site.
Also within Sienna Plantation are numerous everyday conveniences, including the full-service Sienna Market H-E-B, as well as several restaurants; medical, dental and veterinary services; churches; and more. And with the Fort Bend Parkway intersecting Sienna Parkway, employment, shopping and entertainment in Houston are within easy reach.
"Houston Realtors are experts in the local real estate market and they know which communities stand out and which communities sell the best. We are very grateful for both their support year after year and for them choosing us as a finalist in the Development of the Year category," said Alvin San Miguel, general manager of Sienna Plantation.