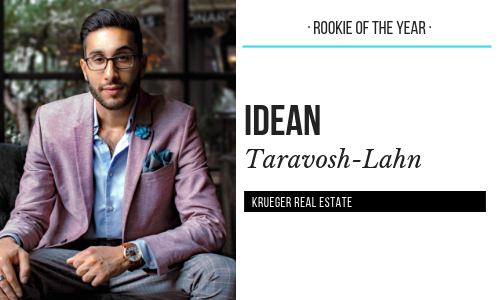 Idean believes learning is a lifelong journey, and finds it fundamental to stay ahead of the game. He's a certified airframe and power plant mechanic by the Federal Aviation Administration, has extensive experience in the oil and gas industry, and is a first generation Persian-American fluent in Farsi. Drawing from his diverse background, he's able to offer his clients an unique perspective coupled with an enthusiastic and easy-going experience.
Tactful and patient, Idean is a clever problem solver with a knack for listening to and prioritizing needs. From thinking of every possible scenario before it plays out, to being prepared and pre-emptive at each step of the process, he understands that the hard work he puts in directly correlates to the results his clients will see.
Idean began as a Realtor in July of 2017 and quickly became the fastest producing agent of Krueger Real Estate. In a little over a year he's helped 20 clients lease a home, 13 clients purchase a home and is on track to continued success in 2019.
"I try to grow wiser, more critical, and more precise in my thoughts and my actions in everything I do. So I approach situations with my clients as if I were approaching them myself — whether that means spending more time searching for the perfect place or negotiating the very best deal, I always try to put myself in their shoes. I think the only way to make sense of life is to embrace it head on, dive into change and make conscious choices reflective of the way you want to live. I chose to become a Realtor to help people, because that's what comes most naturally to me; and I'm flattered for my work to be recognized by this nomination."