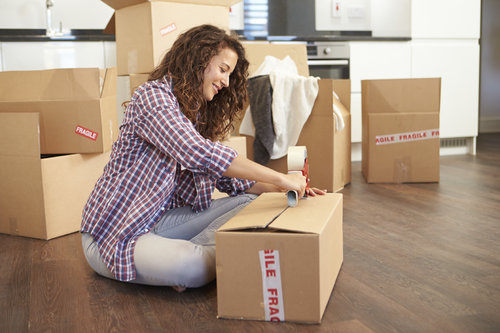 While homebuyers in the U.S. are generally married couples, data from the National Association of Realtors found that 18 percent of homebuyers in 2018 were single women. To drill down more into that demographic, SmartAsset took a look at the major metropolitan areas where women without a cosigner comprise a large share of mortgages originated.
Only in one city — the upstate New York town of Ithaca — did single women make up a larger share of homebuyers than single men. Even then, the difference came down to just one additional buyer. The largest city to make the top 10 was Philadelphia. There, single women accounted for 5,092 originated mortgages in 2018, compared to 5,739 for single men.
In general, though, SmartAsset found that women approved for a loan without a cosigner tended to take on more financial risk than men. In 348 of the 402 areas surveyed, women had a higher loan-to-income ratio than men. This may be a result of the effect of the gender pay gap, which shows U.S. women earn 19 percent less, on average, than men, even after accounting for hours worked.
In other news:
CoreLogic's most recent Home Price Index, covering December 2018 data, showed a 4.7 percent year-over-year increase in average home prices. Year-to-date (January through December 2018) average price growth totaled 5.8 percent, but CoreLogic forecast that it would slow to 3.4 percent over 2019. Large metro areas with the fastest year-over-year price appreciation in December included Las Vegas (11.3 percent), Denver (5.6 percent) and Miami (4.7 percent).
A new report from the Urban Institute shed more light on the trend of young adults living with their parents in the last decade. According to the study, the number of adults aged 25 to 34 living with their parents increased from an estimated 12 percent of the total young adult population in 2000 to 22 percent in 2017. The report argues that this shift "could have long-term negative impacts" at an individual level as well as throughout the whole U.S. economy. Young adults who live with parents for a substantial amount of time tended to see slower growth to their personal net incomes over time. They are particularly unlikely to purchase their own homes in the future as well. But financial realities often put young adults in this position in the first place — high student debt levels and rents were cited as primary causes behind the trend.
The Federal Reserve's monthly survey of senior loan officers around the U.S. found evidence of tightening credit standards at the nation's banks. However, the majority of business and consumer lenders said they weren't changing credit requirements anytime soon. As of the fourth quarter of 2018, 16 percent of the senior loan officers said they were tightening credit standards, primarily due to "a less favorable economic outlook" going forward. More banks told the Fed they also saw signs of slower demand for consumer loans including mortgages, while profit expectations for the next year were generally lower. Still, residential real estate lending specifically saw no appreciable change in reported credit standards.