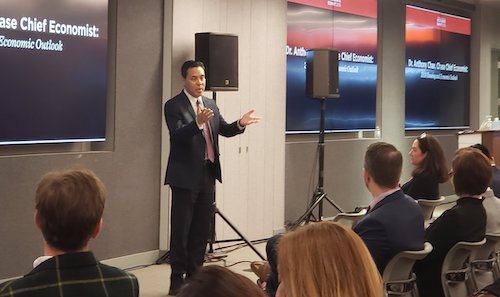 American homeowners have a vested interest in the U.S. economy, and by association, so do real estate agents. The size and scope of the housing market, itself just one piece of the world's largest economy, makes this a difficult subject to understand. But according to Dr. Anthony Chan, chief economist at J.P. Morgan Chase, we may be missing the forest for the trees. Speaking to attendees of Chicago Agent magazine's Accelerate Summit March 5 in Chicago, Chan expressed confidence in the steady growth prospects of the overall economy, despite the doom and gloom pervading recent headlines.
"Tell your clients to look at the indicators, even the common ones, like unemployment," Chan said, referring to the record-low level of joblessness that is fueling a nearly 10-year-old economic expansion. "When you meet your clients, tell them you feel really comfortable, because the odds of seeing a recession in the next year aren't any higher than average."
Chan: Little chance of an impending recession
Formerly an economist at the Federal Reserve Bank of New York as well as in Washington, D.C., Chan makes a point of comparing and combining as much economic data as possible on a daily basis to get a read on where things are headed. Engaging and quick-witted, he joked that as soon as he wakes up every day, "before I even say good morning to my wife, I check the 10-year Treasury yield."
In seriousness, like many market-watchers, Chan has paid close attention to the yield curve, or the difference between short- and long-term interest rates paid on U.S. Treasury bills, often used as a broad economic barometer. Recently, the yield curve has come close to "inversion," meaning investors are betting on slower growth in the future. The yield curve came close to inverting in the third quarter of 2018, stoking panic across financial markets.
However, Chan argued, the yield curve doesn't tell the whole story. Looking at other broad economic indicators, including The Conference Board's all-encompassing Leading Economic Index, chances of something approaching a recession are not strong. Chan projects the U.S. economy will post an average growth rate of 2 percent in 2019, after almost hitting 3 percent last year.
Housing indicators trending up
The U.S. housing market has its own specific indicators that provide a good look at homebuying activity. Chan noted that some of the most reliable housing market indicators, like reports on new home sales and pending sales contracts, have given him confidence that the residential market could exceed expectations early in the year.
"People are starting to feel the excitement out there now that mortgage rates are a little bit lower," Chan said. "Now that's giving you the opportunity to make some calls to people who are on the fence."
This stands in contrast to the situation only a few months ago, when interest rates were higher and a nearly 20 percent stock market downturn made headlines. Chan said the fear created by this selloff was contagious and likely made prospective homebuyers nervous heading into 2019.
"Some of your clients will tell you, 'I'm not going to buy a house because I am looking at this market correction and I'm just afraid.' The reality is that the stock market has these corrections because they have this concern we are going to have a recession, but the stock market always bounces back," Chan told the audience at Chicago Agent's Accelerate Summit. "Remind them that if you've been a long term investor from the bottom, you would've more than quadrupled your money already."