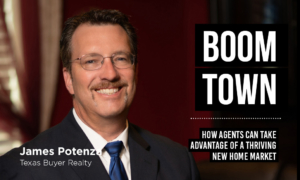 The market for new construction in many parts of the country has lost steam in recent months as inventories rise and and builders assess whether adding even more housing stock makes sense. Houston, it seems, didn't get that memo.
The city is experiencing a boom in residential construction, making it the second biggest market for new home starts in the country, according to Metrostudy.
Houston experienced 30,146 new home starts in 2018—up 10.4 percent from 2017. That's a stark contrast to overall U.S. housing starts, which the U.S. Census Bureau reported fell 0.3 percent in March, hitting a two-year low caused by unrelenting weakness in the single-family housing market. Researchers at Metrostudy attribute Houston's upswing in new construction starts to builders and developers offering a wider range of products, including an increased number of homes in the $200,000 to $400,000 price range—a part of the market that has been underserved in recent years.
Areas of Houston that experienced the greatest number of year-over-year increases in new home start in the past 48 months were located far north, west and southwest of the city. Not surprisingly, that's where developers are breaking ground on many major master-planned communities that are priced, designed amenitized to suit buyers at range of price points.
Everywhere you go around Houston, it seems, you see new homes being built. But behind the scenes are the developers, builders and real estate professionals working together to bolster the housing market. Here, they speak candidly about the state of new home construction, the latest hotspots for development and the steps they are taking to add value to clients purchasing new homes.
An inside look at the market
In 2018, Ben Caballero made a Guinness World Record for most annual home-sale transactions through an MLS by an individual sell-side real estate agent. Founder and CEO of Homes USA, Caballero and his team manage MLS listings for more than 60 production builders, supporting their sales and marketing efforts. Part of his job involves regularly tracking trends in new home sales that are reported to the MLS by the Houston Association of Realtors.
Recently, Caballero noticed two indicators that the Houston market is exceptionally healthy: From August, 2017 through February, 2019, there was a slight decrease in the average price of new homes—from $379,201 to $352,229—due to builders designing smaller homes to meet the demand of buyers—and a slight increase in the average sale price of homes as a percent of list price, from 96.9 percent to 97.4 percent. Based on his experience, he speculates the increase is a result of more people at various income levels securing jobs and millennials entering the homebuying age. The result, Caballero suggests, is a broadening pool of homeowners at the entry level, which bodes well for the market as a whole.
Making a splash in outlying areas
Look at a map of Houston and it's pretty evident: There is nowhere to build within a reasonable distance of the Houston except in areas south of the city, said Jim Potenza, broker and owner of Texas Buyer Realty and the Potenza Team. "Newer communities are going to be bigger and better than they ever were before. Not [in terms of acreage]; they'll have more flair."
By flair, he is referring to the master-planned communities with such modern amenities as activity centers featuring resort-style pools with lazy rivers, cabanas and outdoor grilling stations, state-of-the art fitness rooms and lifestyle coordinators on staff to plan community-wide events; miles of nature trails; lakes; dog parks and community gardens. Many of these communities are designed to include shopping, schools and entertainment located within their borders.
"I could have told you 20 years ago the new hot spot is going to be south of Houston," Potenza said. "I can foresee Walmarts and Home Depots further south than they are now." He is certain buyers will be blown away by the multitude of master-planned communities located south and west of Houston. Two that made his must-see list are: Meridiana and Cane Island, both being developed by Rise Communities.
Rather than limit itself to building in one concentrated area, Highland Homes builds "360 degrees around the city," according to Matt McGhee, director of land for Highland Homes. "New employment centers and road infrastructure are opening up new territories and hot spots all around town: I-45 opens to Willis; 290 to Waller; 288 to Angleton and Alvin," he said. "New roads make access to Fulshear and the west suburbs easier." He anticipates Bridgeland, a master-planned community of luxury homes, apartments and retail by Bridgeland Development in Cypress, to rank among the top communities this year for new home starts, because of its access to premier schools, amenities and other communities being built by top-tier homebuilders. With so many large employers located in the Woodlands, Katy and other parts of town, McGhee believes downtown Houston is not necessarily a main draw now. Not everyone agrees.
Walkability in the urban core
"People want to live in an area where they don't have to use their car all the time," said Mike Reddell, executive vice president of sales for Sudhoff Companies. "They travel overseas to Europe and see how people live and they want the same experience."
Sudhoff Companies proved that philosophy right last year, when its staff of 12 agents sold nearly $500 million in homes. A large percentage of that figure were condos located in the Urban core, Reddell said. "By far, that is a record for Houston, which historically has not been big on condos," Reddell said. Sudhoff is focused on building condominiums minutes away from downtown Houston, in walkable areas close to employment centers, restaurants, entertainment, and parks.
Submarkets that are really hot now—Midtown, the Museum District, Montrose and Upper Kirby—are within a 10-minute drive or so from downtown, Reddell said. To meet the increased demand for affordable condos inside the 610 Loop, he is searching for apartment buildings that were built to condo standards, to convert into for-sale product. "Once you upgrade and convert an apartment building, you can sell it for $200 or more less per square foot than you would have to sell it if it were brand new," he said. "A lot of apartments are in wonderful locations and well-built, they just need upgrades to common area amenities and finishes inside units."
Entry-level market heats up
On the entry-level new housing front, demand is extremely good, according to Damon Sachs, president of Liberty Home Builders. He bases that assessment on the conversion rate—the percentage of prospects who walk into his model homes and are converted into buyers; and the cancellation rate—the percentage of deals called off because something happened to the buyer, like a divorce or being denied a loan. Overall, Liberty's cancellation rate is in the low teens, an historic low, and its conversation rate is in the mid 20 percent range. "In a normal market those figures are flipped," he said. He attributes it to strong demand and low supply.
That demand may be strongest, according to Metrostudy's research, at price points that many entry-level buyers are looking within. Metrostudy revealed new home starts in 2018 in the $200,000 to $300,000 price range were 26.2 percent from 2017 figures—the largest increase of any of the price ranges studied. In the $300,000 to $400,000 price range, the jump wasn't as dramatic, but starts were up substantially with a 10.9 percent increase from the previous year.
Adding value to buyers
Reddell estimates that 80 percent of all new home buyers have a real estate agent that helps them with the purchase. Still, many times, condo buyers have told him they couldn't find an agent who knew enough about condos to assist them. He knows why: Historically, Houston has not had much condo inventory. But he is working on eliminating the disconnect by offering real estate professionals a two-hour continuing education class called Condos 101, to help them add value for buyers who don't have time to research the market themselves.
Through Homes USA Alliance, a sister company to Homes USA, Caballero provides real estate professionals 11 hours of continuing education classes, to make sure they do not treat a new home sale like a resale transaction. "If I can help realtors sell more homes, it's good for my builders. And if it's good for my builders, it's good for me," Caballero said.
His classes, which will soon be offered online, focus on the key areas that cause trouble between builders and real estate professionals: the title company, the lender, the closing date and contracts. For example, using the builder's preferred title companies and lenders eliminates the confusion caused by them having to deal with dozens of different vendors. With new construction, he explains that builders can only give closing date approximations a month out, because of circumstances outside of their control: Weather, delivery of materials, labor, vandalism…In the long run, a real estate professional who understands the process of buying new construction, both Reddell and Caballero say, can make the experience that much easier for their clients.
Advice for breaking into the new home market
The advice our expert sources have for real estate professionals who want to break into the new home market is to visit the communities and get to know the onsite sales reps, who will be happy to share the key selling points that are driving prospective buyers to purchase a home and a establish a life in their new home community. It won't take long to realize the benefits of new construction over resale. In fact, Reddell is seeing residents move from existing homes to new construction within the same community. And why not? New construction offers buyers the latest in architectural styles and finishes, energy-efficient heating and cooling, smart technology for security and electronics, and no maintenance because everything is new and under warranty.