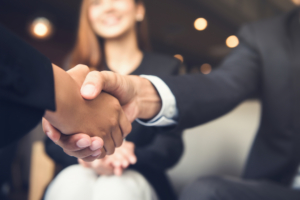 Beth Butler has been working in the real estate industry for many years. And even as President of Compass Miami with more than 500 agents reporting to her, she still takes the time to attend a variety of networking events each month.
"In management, it's still important for any leader, whether they lead an office or lead an entire organization, to be visible out in the market area," she said. "It's your reputation and brand, and networking is an essential part for anybody in the real estate world."
In real estate, networking can be the catalyst to finding more involvement in the community, building lasting relationships and hopefully increasing your referrals. Kimmylea Taylor, owner and designer of LimeLight Expressions in Omaha, has been creating networking events for years for companies, from big galas to small affairs. She understands the particular need for real estate agents and brokers to attend such events, as she has designed networking events for NP Dodge, one of the largest real estate companies in her city, for the last nine years.
"As a real estate professional, you need to get your name out there," Taylor said.
The importance of non-real estate contacts
While it's important to get to know other agents and brokers in your community, meeting and building relationships with the home inspectors, tax attorneys, lenders and other industry professionals at events can help you serve your clients. Butler chooses a few events to attend each year — especially those sponsored by a local Realtor association — so she can connect with people in the business.
"There is no limit to the events being put on in the Miami area," Butler said. "But you just have to pick a few that sound interesting to you. I may go to an event to support an agent or go to one that I know there will be an interesting discussion going on."
Butler also suggests not going to just networking events full of a lot of real estate agents. "It's nice sometimes being the only real estate agent in the room."
It's all about making choices. When you have young children at home, real estate can be a tough profession. There's always that balance you need to work out. That's why she says Business Network Institute (BNI) has worked well for about 20 of her agents, most of whom each belong to a different group within the organization. Only one person from each professional specialty is allowed to join a chapter of BNI, eliminating the possibility of competition. Many of them meet for early morning meetings and refer each other to their own clients or friends and family.
More than just business
Networking is not just about building up a list of professionals who can help your clients. Real estate networking events can run the gamut from a small gathering for coffee to a big conference with speakers and activities. It's important to choose events carefully and tailor them to your business goals.
Everyone is busy these days, so it's important to see networking events as not only a chance to meet new people, but also an opportunity to unwind and enjoy one's community. Many of the business events Taylor has been planning recently have become family-friendly, as more young professionals want to also spend time with spouses and young children.
"The more family-friendly people make it, the more people love it. We have had magicians, balloon artists, face painters, a lasso guy, bonfires, raffle prizes and more," she said.
Taylor noted similar successes with networking events that also benefit local charities. "It's all about giving back to the community," she said. "It's a great way to help others out while socializing and building your circle."
Be realistic about goals
If you're at a big event with hundreds of people, it won't really benefit you or your business to try to meet everyone. Darrah Brustein is the founder of Network Under 40, a company based in Atlanta that puts on variety of networking events that range from intimate dining to more than 500 people at one gathering. She advised real estate professionals to focus on quality rather than quantity.
"If you talk to three to five people and have meaningful conversations, that's better than trying desperately to meet everyone," she said.
Brustein said her best advice is to never go to a networking event looking for client. "You need to go with the outlook of how you can help other people," she said. "Start a relationship, and look for partnerships. They are more fruitful. People will open many doors for you over time if you have a mutual relationship. Don't go to a networking event trying to sell something."
Real conversations
While many assume networking events are for extroverts, there's a secret weapon that introverts bring to the networking table.
"Introverts ask great questions," she said. "If you listen more, you will build rapport."
Butler says that if you want to network, find a place that you have a natural interest in.
"When my son was younger, I was in the PTA. I loved volunteering for them. It benefitted my career, but I didn't get into it for the business," she said.
In fact, Brustein advised real estate professionals throw out some of the traditional networking activities in order to build better relationships. Start out by simply sharing your name, she said, but don't offer a title until someone asks you. She also advised against quickly asking what someone else does, as this can make the conversation feel overtly transactional. Finally, only give business cards out if someone asks for one. Wait until you actually make a connection, and use the card as a catalyst to continue a conversation or relationship.
Making the event worth your time
After you've thought about your goals for the event, it can be a whole different ballgame when it comes to putting your plan into action. Taylor said she has watched people wander around the room or stand in the corner by themselves.
"You have to go up and introduce yourself. You never know where that will lead," she said.
It may be tempting to show up fashionably late, but Brustein suggested arriving within the first hour of event. Perhaps surprisingly, she said promptness is especially important for a looser event such as a happy hour. This way attendees are still fresh and not already heading out the door.
If you're not sure where to stand, Brustein offered a few suggestions, such as strategically placing yourself kitty-corner from the bar or buffet table. This means you're in the perfect spot for someone to turn toward once they get their drink or food. Often, she said, people are thankful there is someone there to talk to right away. You can also sit at an empty table, and people may come to you because they don't know many people either. But make sure you don't stare into your phone at that empty table, as this puts up a subtle "do not disturb" sign to other attendees.