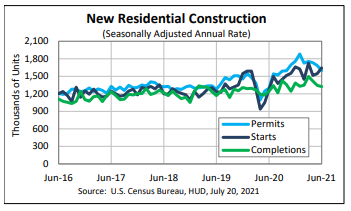 The pace of privately owned housing starts rose 6.3% month over month in June to an annual rate of 1,643,000, according to the U.S. Census Bureau and the Department of Housing and Urban Development.
Year over year, the pace of housing starts in June represents a 29.1% gain from the year-ago rate of 1,273,000, according to a press release.
Privately owned housing units authorized by building permits in June came in at a seasonally adjusted annual rate of 1,598,000, down 5.1 % from the revised May rate of 1,683,000, but 23.3% above the year-ago rate of 1,296,000.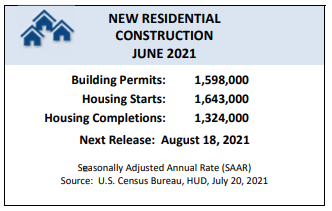 By region, June new single-family construction activity was strongest in the Northeast, where it surged 34.4% month over month from May, followed by the South, with a 13.7% increase. It was flat in the West and fell 19.9% in the Midwest.