Four members of the Greater Houston Builders Association (GHBA) have vowed to participate in the association's annual charity fundraiser, the Benefit Homes Project.
HistoryMaker Homes and Taylor Morrison will break ground on their homes this spring, and Empire Communities and ASGi Homes will break ground in 2023.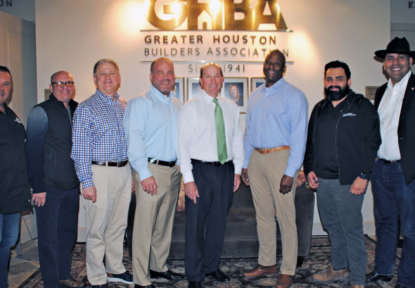 "This is an exciting development for the GHBA's charity fundraiser," said Scott Merovitch, the Benefit Homes Project chairman. "Our goal was to partner with 2-3 builders and developers for ongoing construction through 2022, so signing on four has exceeded our expectations. It also reflects the generous spirit of the home-building industry."
Since its inception 42 years ago, the Benefit Homes program has recruited two builders per year to construct homes on donated lots using materials and services donated by GHBA member companies.
According to the GHBA website, the homes are typically built with amenities and features not often found in homes within similar price ranges, then sold at market value. Proceeds from the sales are donated to two local charities, Operation Finally Home and HomeAid Houston.
"To cap off this achievement, all four builders have commitments from developers for a lot donation," said Aimee Bertrand, CEO of the GHBA. "We are honored and grateful to these GHBA members who will help raise valuable funds for two charities that change the lives of men, women, children and families facing crisis situations."