Starting last month, many open houses around the Houston area were accompanied by heart shaped balloons, a token signifying the unusual unity of the real estate and health industries.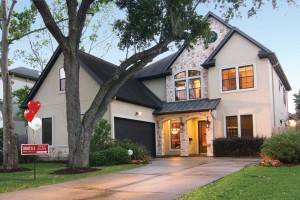 Heritage Texas Properties will continue their efforts through the end of June, collaborating with the American Heart Association's "Go Red For Women Campaign," which aims to raise awareness of heart disease, and particularly the prevalence of the disease among women, said Houston Culture Map.
"It is important to Heritage Texas Properties to support local non-profit organizations," said Robin Mueck, Heritage President and CEO in a blog post from Heritage. "Because so many of our agents and staff members are female, we chose to support the Go Red for Women Campaign in an effort to bring awareness to this significant cause."
Heart disease is the number one killer of women nationwide, according to multiple sources, killing nearly 500,000 women every year.
The belief that the knowledge of this disease is limited is the exact reason Heritage opted to join the campaign, saying that it was a natural choice for them.
In addition to the balloons, information on both the campaign and American Heart Association are being made available inside the homes. To top it all off, Heritage is donating an undisclosed percentage of commissions for every one of their homes sold during May and June.
Gwen Francis, Heritage's director of business development, told Houston Culture Map that agents and clients alike have responded positively to the effort, encouraging Heritage to pursue a continued partnership in years to come.