Plans for Winfield Gate, a community of luxury homes, are back in motion for an assemblage of property fronting San Felipe, just East of Kirby Drive. The plans had been put on hold during the economic downturn.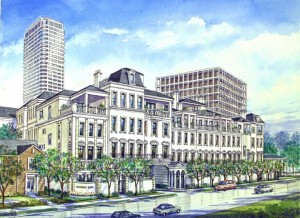 According to an article for YourHoustonNews.com, construction will start around August 12, after local businesses have vacated the affected potion of the block. Construction will take about 18 months.
Near the planned site for Winfield Homes, Urban Retreat Day Spa and Salon's former venue is under renovation to house a temporary sales office for the project, by Rohe & Wright. Housed there as well is a satellite office for Sudhoff Properties, which represents a portfolio of new construction projects.
Winfield Gate is a 21-unit complex of single-family luxury homes. They are arranged around a central courtyard. The project is planned to be three-stories, complete with rooftop terraces. On the Winfield Gate website, floor plans show units ranging in size from 3,800 to 6,400 square feet, and will be priced in the $1.2 to $2 million range.
Jacob Sudhoff, principal of Sudhoff Properties, described Winfield Gate as a "lock and leave" community for those who are "scaling down to a more manageable in-town home, according to the YouHoustonNews.com article. The target buyers are those who already have homes, but wish to keep a presence in their former neighborhood.