Nobody wants three-bedroom apartments anymore, so developers aren't building them.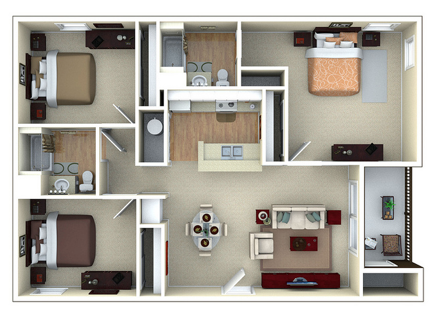 Ten years ago, developers were constructing apartment complexes with 30 to 40 percent one-bedroom units, and now in 2013, 80 percent of the units in a typical complex are one-bedroom units.
Ryan Epstein, senior vice president of the Multi-Housing Group at the CBRE Group real estate firm commented on the change on Culture Map. "Today, no one is doing three bedrooms," he says. "People want to live by themselves – no roommates."
One-Bedroom Units in High Demand
There are four main reasons why one-bedroom units are now taking over the market.
Single people and couples dominate the apartment market.
People would rather live alone.
Compared to past decades, more women are graduating from college and more professional women are living on their own, leading them to search for apartments instead of homes.
The more prevalent single female.
The demand for three bedroom apartments certainly isn't entirely gone, the prime example being families that are relocated to Huston on short notice by their employers. These families desire a three-bedroom unit for about a year until they can find a home suited for them.