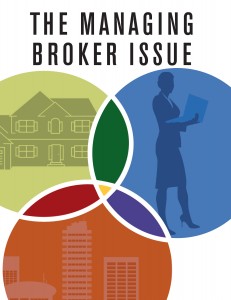 When asked "How do managing brokers run a smooth-running business?", Mark Maniha, broker and owner of Maniha Real Estate Experts in Houston says simply "There is no such thing."
According to Maniha, distraction is the biggest problem plaguing agents, and it's affecting how they run their business. As Realtor for over five years, Maniha says that using a productivity tool such as "time blocking" can ensure an agent's and a brokerage's success.
"When I tell my team to time block, they get upset, because they want to just pick up the phone and call whenever they want," Maniha says. "I will tell them to not look at their cell phone for two hours and just focus on getting leads, or only writing thank you notes, and they go nuts. But, that's what you have to do is schedule your day and time block, and if you don't, then your real estate business is running you."
Peggy Rudolph, broker and owner of RE/MAX Vintage in Houston for the past four years, says having people join who all have the same goals and treating all clients in a fair and professional manner are the keys to a smooth running brokerage.
"Within our office, we are not an industry, we are in a profession, and we conduct ourselves as professionals," Rudolph says."This is the way we have done things in our office and it has worked."
Al Rincon, managing broker and partner of Keller Williams Realty offices in Katy, College Station, and Waco, TX, says their company relies on the use of systems, models, and templates.
"Keller Williams has certain models of consistency, and have been tried and true, very systematized, almost like a recipe for making a cake. We make sure that everyone on the staff relies on it, " Rincon says. "There is something called "paths to profit", like a map for agents, and it helps navigate their business, instead of taking the time to hold their hand, which will kill you as far as time goes."