Last month's homebuilding numbers were a big letdown – what does that suggest about the larger economic climate?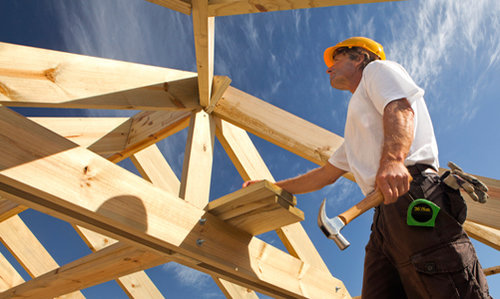 Housing construction turned in a disappointing month in March, according to the latest analysis from the U.S. Census Bureau.
The numbers were not pretty: building permits were down 5.7 percent from February, hitting a six-month low; completions were down 3.9 percent monthly and 5.8 percent yearly; and housing starts, though up 2.0 percent monthly, performed far below economist expectations of 15.9 percent.
A Weak Month For New Construction
So what gives? Why would new construction have performed so much weaker than analysts had anticipated?
The answer, unsurprisingly, lies in the multifamily sector.
As we reported earlier this year, the multifamily share of new construction has risen from 17.2 percent of the market in Jan. 2002 to 35.1 percent of the market in Jan. 2015. The reasons for that shift are varied – how stagnating incomes, tighter lending standards and tarnished credit have all shifted consumers from buying to renting – but builders have responded accordingly to the new rental demand, and that has put the construction marketplace at the mercy of a volatile sector.
Take March's numbers as a prime example: only multifamily permits on a year-over-year basis were positive, rising 2.1 percent; otherwise, the numbers were ugly, with permits falling 15.1 percent monthly, starts falling 1.7 percent yearly and 3.3 percent monthly, and completions falling 18 percent yearly and 10.6 percent monthly.
This is the second straight month of weak multifamily activity, and in both months, the overall marketplace sunk as a result.
Sign of the Times?
Beyond the multifamily sector, though, some analysts are suggesting that March's weaker numbers hint at something far more insidious at play.
Lindsey M. Piegza, the chief economist for Sterne Agee, wrote that March's construction activity is just one more piece of a "lackluster" housing puzzle.
"The housing market remains lackluster, with modest sales activity stunting robust building activity," Piegza stated. "Despite modest improvement at the end of the quarter, starts remain below the one million-unit threshold. In yesterday's Beige Book, industry contacts reported activity was improving in most areas with heightened optimism of a larger rebound in both sales and starts this spring. This morning's report, however, does not reinforce such confidence."
Daniel Silver, an economist at J.P. Morgan Chase, expressed similar opinions to The Wall Street Journal.
"The lack of significant bounce-back in the March data raises some questions about the underlying strength in the housing market," he said, "since we believe the March data should have been mostly free from any negative weather impact."
For some time now, we've been reporting on the numerous sources of economic stagnation, and how the uncertainty that such stagnation inspires will ultimately hamper housing's recovery. Could such trends be influencing the new construction side of housing? It's too soon to make any serious pronouncements, but it's an angle we'll be following closely in the coming months.