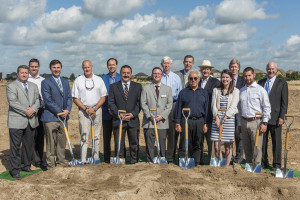 The first commercial development in Bridgeland, a master planned community in Cyprus, has broken ground. Located along Fry Road, Lakeland Village Center will include 84,000 square feet of mixed-use developments, such as retail, restaurants, and professional and medical offices. One specific development will be the construction of a new CVS/pharmacy.
Being developed by the Howard Hughes Corp., Bridgland is an 11,400-acre planned community and is located between U.S. 290 and Interstate 10.
Residents of Lakeland Village, a traditional neighborhood development in Bridgeland, will be within walking distance of the Lakeland Village Center. Those in the remaining enclaves of Lakeland Village will also have easy accessibility to the center. Paul Layne, Executive Vice President of Master Planned Communities for the Howard Hughes Corporation commented on the company's new project.
"We are excited to announce Lakeland Village Center as the inaugural commercial venture in Bridgeland. The new village can be accessed through Fry Road and is in close proximity to the Grand Parkway and Highway 290," said Paul Layne "Having CVS/pharmacy as the anchor will offer even more convenience to residents and nearby communities."