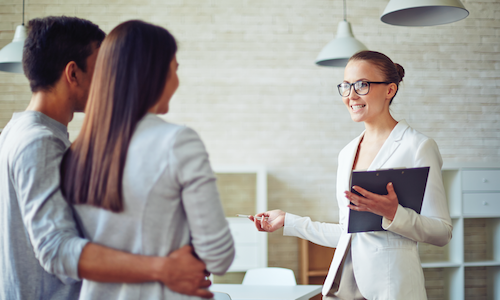 Breaking down the many barriers to credit erected in the wake of the mortgage crisis has been a slow process. Credit issues have kept older homeowners from selling and younger renters from buying. But according to Fannie Mae's Q1 Mortgage Lender Sentiment Survey, more lenders now expect credit standards to ease in the coming months. And it's big news for real estate agents in the first-time homebuyer market.
Millennials are the future of the residential real estate market.
They represent the largest generation, ever. In June of last year, the U.S. Census Bureau released a statement announcing that Millennials had officially overtaken Baby Boomers as the most populous age group, with 83.1 million – representing more than 25 percent of the nation's population.
They want to be first-time buyers…
But until now, Millennials have been a population of renters and young adults still living with their parents.
In 2006, homeownership rates among adults aged 25 to 35 years old was 47 percent. In 2014 the number was down to 37 percent, while more than 20 percent were choosing to live with their parents, according to the National Association of Homebuilders.
But it's not that Millennials don't have money. Yes, their wages have been dwindling, but as a report from The Brookings Institute confirmed, the generation accounts for more than $1 trillion in U.S. consumer spending.
And it's not that Millennials don't want to own a home. A National Association of Realtors survey showed that 69 percent of younger Americans regard homeownership as both a smart and achievable goal, compared to 72 percent of older respondents.
…but it's hard
A major obstacle is credit, alongside stagnant wages and bloated student debt. And how quickly that problem is rectified will further determine the continued pace of the American housing market's recovery. Because at the end of the day, Millennial homeownership is inevitable.
Last year's The State of the Nation's Housing, published annually by Harvard's Joint Center for Housing Studies, read: "The Millennials are now adding to the ranks of renters and will eventually spur demand for first-time homeownership. As the oldest members of this generation turn 30 this year and the economy continues to recover, that demand should begin to emerge more strongly."
So real estate agents may need to start preparing themselves for a rise in Millennial buying power, because first-time homebuyers make up roughly 33 percent of total purchases nationwide, according to NAR.
Easing credit will help
What Fannie Mae's survey found is that there are currently more lenders both reporting and projecting credit easing than not – a very different scenario from two years ago.
According to the report, more lenders reported credit easing over the past three months than tightening, and the same is projected for next quarter.
While quarter-over-quarter the number of lenders reporting and projecting credit easing has dropped, the positive margin predicting easing standards reasserts a trend established in the final months of 2014, and further opens the levies for a sizable wave of first-time buyers to hit the market.