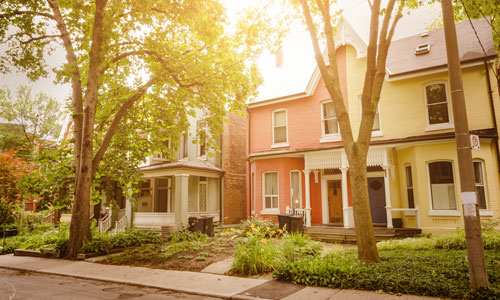 Forget what you thought you knew about the housing market – according to Freddie Mac, 2016's housing market will see a return to pre-crisis levels.
In the year following the recovery surge of 2014, the market slowed – a result of stability in some places and trouble in others. In the months leading up to 2016, many groups forecasted growth, but hardly anything that would call for the adjective "best."
In Redfin's 2016 forecast, researchers wrote: "Most economists agree that housing prices and sales will continue to grow in 2016, just at a slower pace. Call it a slowdown, but not bad news."
When Time's Money magazine asked Zillow Chief Economist Svenja Gudell whether the country should be optimistic or pessimistic about housing in 2016, she responded: "I'm an optimist. I like to see the silver lining, but there's going to be a lot of hurdles."
Researchers at Freddie Mac are not convinced, and in fact, in a recent forecast, the mortgage corporation admitted it expects 2016 to be the best year for housing since 2006 – the year immediately preceding the downturn.
Here's why:
1. Low mortgage rates – By last year's end, interest rates on 30-year fixed rate mortgages averaged over 4 percent, according to Freddie Mac. But as the market transition into 2016, the rates took a drop and have since remained below 4 percent, which is where the mortgage insurer expects them to remain until later this year when eventually ascends to 4.4 percent.
There are several rate influencers that need to work a certain way for Freddie's forecast to be correct; the biggest of which are global economic conditions.
The current situation has seen interest rates fall into the negatives in several countries, but Freddie Mac expects growth to at least stabilize, and possibly improve.
2. Labor resilience – Since 2011, the U.S. has averaged monthly net job gains of 205,000, pushing unemployment down below 5 percent and demonstrating the resilience of the country's housing market. An analysis from Goldman Sachs concludes that the labor force participation rate, which has declined by more than 3 percentage points since 2007, is unlikely to see much improvement in the near future. But while that sounds ominous, Freddie Mac believes a stagnant rate will place pressure on wages, forcing them to rise. "Wage growth ultimately will be a key factor for housing markets," the report read.
3. Household formation bump – The rate of household formations took a major dip in the latter half of 2015, falling more than 50 percent from earlier in the year to 800,000 formations annually. However, considering the steady job gains, researchers for the mortgage corporation write that "household formations should start picking up soon."
4. Supplying demand – Housing demand is strong, but inventory is not. It was a problem throughout 2015, but construction data shows an increase in multifamily and single-family starts, and builder sentiment is up, according to the NAHB/Wells Fargo Housing Market Index. Supply is coming, Freddie Mac reported. The loan insurer is predicting multifamily and single-family starts to increase 200,000 units to 1.3 million this year.
5. Equity on the rise – CoreLogic reported recently that 8.53 percent of borrowers are currently underwater. That's down from 26 percent in 2009. Home price appreciation, spurred by healthy demand and shallow inventories, is helping push the country's indebted into equity – a major boon for many households. However, Freddie Mac does point out a repercussive negative, which is the resulting loss of affordability.
In its report, the government-sponsored enterprise admitted that "challenges remain" in the market, but they don't dampen its optimism. Researchers wrote: "Despite the challenges facing the housing market, we expect this to be the best year for housing in a decade."