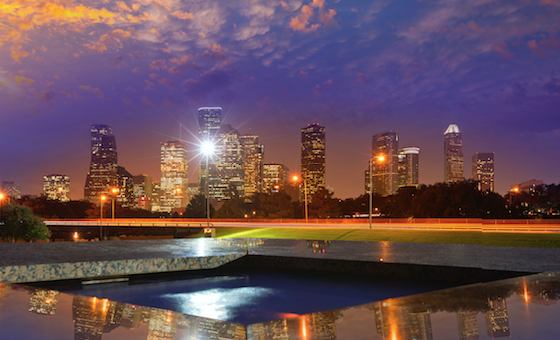 Good agents understand today's market. Great agents understand tomorrow's.
In March, Houstonia released its special Best Neighborhoods 2020 issue, dissecting the city's residential real estate market to determine what the hottest neighborhoods of the year would be, as well as beyond.
For 2016, the magazine chose 10 areas "already nailing the whole quality-of-life thing," which were: Montrose, East End, Heights, The Woodlands, Memorial, Midtown, Pearland, Spring Branch, West University and The GOOF: Garden Oaks/Oak Forest.
But looking past the neighborhoods Houstonians already recognize as hot spots, here are 10 neighborhoods that are expected to be hitting their stride by 2020 (adjust your business strategies accordingly):
1. Downtown
With a population of 12,000, downtown residents live in close quarters, which is why walkability plays such a big role in the area. Currently, the area's Walk Score is 77 out of 100, which reflects "easy access to Buffalo Bayou, Discovery Green, Market Square Park, and a laundry list of cultural institutions." What's going to help transform downtown into one of 2020's most desirable areas is its forthcoming housing additions – which will be paramount in handling the city's increasing population; downtown's population could triple within just a few years. By 2020, the current slate of apartment projects, which total over 5,000, should be complete.
2. Northside
Located just over I-45, Houston's Northside neighborhood is historic, but currently underdeveloped. That's set to change. Area residents are excited for the forthcoming White Oak Music Hall, which many anticipate will be "transformative" for the neighborhood. But more than that, there are plans to redevelop the historic, long-vacant railyards into apartments, many of which will be cater to low-income buyers. The Houstonia reports that area experts are admittedly shy of taking on new projects in the face of low oil prices, but affirm that the area's densification is only a matter of time. Because of its close proximity to Heights (one of the city's most popular areas) Northside is bound to absorb many of the current residents leaving due to affordability struggles. Add in the new light rail along Fulton Street, and the neighborhood is primed for a surge in demand.
3. Energy Corridor
This once-bustling economic center's spot on this list may come as a surprise in light of the massive energy slump, but from a long-term perspective, the area is rife with potential. While it's true the massive layoffs and rise in office building vacancies have created a significant hurdle for the neighborhood, it remains surmountable. Rebuilding the economic importance and strength of the area will be a long road, but in the meantime, the City is working to remove some of the other problems holding the area back, such as traffic congestion. Outline in the district's 10-year master plan, the Energy Corridor is expected to gain significant mobility from a shuttle system being built to link nearby communities with all the major employers (like BP, ConocoPhillips and Shell). And a plan to redevelop the former ExxonMobil Chemical site into a 3-million-square-foot mixed-use development will add both housing and improved walkability within its immediate proximity thanks to "shuttles, bike lands and pedestrian trails."
4. Springwoods Village
Springwoods is a new master-planned community, and it's bound to be big. The neighborhood boasts more than 2,000 acres, but so far, much of it remains undeveloped. However, at its heart, Exxon recently opened a 385-acre campus and the surrounding community, which is already growing, offers residents a view of the future that includes: environmentally sustainable development, LED streetlights and an eco-friendly storm-water catchment system that offsets its energy usage through solar panels. Currently, the amount of housing available doesn't match the number of jobs centered in the area (about 10,000) so development over the next few years will be key. All 2,000 acres are expected to be developed by 2036.
5. Antoine Corridor
The Near Northwest Management District President Wayne Norden told Houstonia that the city's residents are finally beginning to take notice of the area's housing stock, which means good things for the neighborhood in the future. "There's a large number of 25- to 35-year-olds moving in, some with families, some without, who are recognizing the value of the area." It's the area's location – north of Highway 290 – that gives it so much potential. It's a great second option for buyers unable to afford the Inner Loop. And by 2024, the area should have undergone a complete makeover, which is expected to include wider sidewalks and bike lanes, enhanced green areas with new waterside trails, and an injection of local retailers to help give the neighborhood a new appeal.
6. Fort Bend County
Over the next decade, Fort Bend County – home to Sugar Land, Richmond, Rosenberg, Missouri City and parts of Katy and Pearland – is positioned to handle rapid growth, which will coincide with the announcement from Schlumberger, the world's largest oilfield services company, that its moving its campus from Uptown to Sugar Land. The area will also is expecting additional housing inventory and a new $74.3 million amphitheater.
7. Independence Heights
The area has a rich history as the state's first African-American incorporated city. But as has been the case in many American cities populated by minorities, it was the victim of discriminatory policies that left it broken before it had a chance to flourish. The Independence Heights Redevelopment Council is working to redevelop "blighted areas" – which includes parts of Independence Heights. The council's executive director, Tanya Debose, told Houstonia that "the main thing (the council is) working on is getting the homes upgraded and restored, but also bringing in new people to the neighborhood without displacing the ones that are there." Before Mayor Parker's term was up, she selected the neighborhood as one of four to receive funding for rebuilding the homes damaged by Hurricane Ike. By 2026, development should be just wrapping up in the area and housing should be well on the rise.