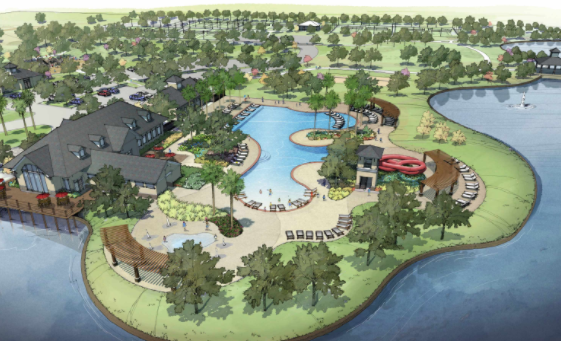 Riverstone was the top-selling master-planned community (MPC) in Greater Houston in 2016, and Aliana was a close second, according to RCLCO's annual MPC report.
Those were the only two Houston-area MPCs in the nation's top 20. Altogether, Texas had four MPCs in RCLCO's list, with the other two being Dallas' Paloma Creek and Eastmark.
Texas is still one of the most well represented states in RCLCO's rankings, making up 38 percent of the country's top 50 MPCs. But its numbers have dropped off in recent years.
In 2008, five of the 10 top-selling MPCs nationwide were in Texas. That was down to two last year. And in Greater Houston, The Woodlands MPC has made more top 10 appearances (20 altogether) that any other MPC in the country; in 2016, though, failed to make even the top 20.
Another casualty of lost affordability
RCLCO's report addressed the decline in MPC sales, particularly in Houston, citing the significant economic disruption caused by low oil prices. However, it adds that downstream oil and gas projects, as well as the city's rapidly growing health services sector, are angling Houston for a strong 2017.
As it pertains to Greater Houston's top-selling MPC, Riverstone, the steep, 28-percent decline in annual sales – which dropped it from No. 5 in 2015 to No. 18 in 2016 – was attributed to a loss of affordable inventory.
And that loss of affordability is a trend affecting much of Greater Houston. In the final quarter of 2016, after falling 12 percent year-over-year, starter home inventory accounted for less than 25 percent of available homes, compared to premium inventory, which accounted for more than half.
See our below table to see how other top MPCs compare to Houston's:
| Rank | MPC | LOCATION | STATE | 2016 SALES | 2015 SALES | % CHANGE |
| --- | --- | --- | --- | --- | --- | --- |
| 1 | Irvine Ranch | Orange County | CA | 1,989 | 1,674 | 19% |
| 2 | The Villages | The Villages | FL | 1,966 | 2,294 | -14% |
| 3 | Nocatee | Ponte Vedra | FL | 973 | 1,105 | -12% |
| 4 | Lakewood Ranch | Sarasota | FL | 775 | 535 | 45% |
| 5 | Summerlin | Las Vegas | NV | 769 | 602 | 28% |
| 6 | Cane Bay Plantation | Charleston | SC | 569 | 520 | 9% |
| 7 | Inspirada | Las Vegas | NV | 564 | 389 | 45% |
| 8 | Westridge | McKinney | TX | 528 | 472 | 12% |
| 9 | Paloma Creek | Dallas | TX | 515 | 450 | 14% |
| 10 | Eastmark | Mesa | AZ | 502 | 554 | -9% |
| 11 | Lake Nona | Orlando | FL | 495 | 500 | -1% |
| 12 | Great Park Neighborhoods* | Irvine | CA | 490 | 282 | 74% |
| 13 | Stapleton | Denver | CO | 471 | 665 | -29% |
| 14 | Rancho Mission Viejo | San Juan Capistrano | CA | 458 | 302 | 52% |
| 15 | Vistancia | Peoria | AZ | 453 | 466 | -3% |
| 16 | Daybreak | South Jordan | UT | 452 | 415 | 9% |
| 17 | Baker Ranch | Lake Forest | CA | 443 | 355 | 25% |
| 18 | Riverstone | Fort Bend County | TX | 441 | 609 | -28% |
| 19 | Aliana | Fort Bend County | TX | 426 | 443 | -4% |
| 20 | Verrado | Buckeye | AZ | 413 | 343 | 20% |
| | | Total | | 13,692 | 12,975 | 6% |