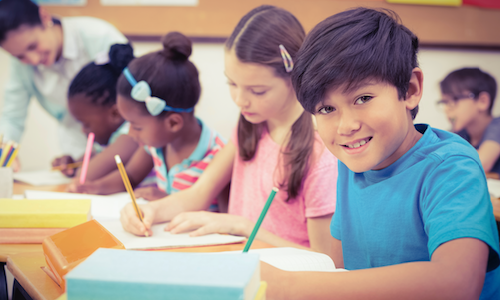 The Texas Education Agency announced this month that 26 Texas schools had been nominated for national 2017 Blue Ribbon Schools recognition.
Five Greater Houston schools were named among the nominees: Austin Middle School, Eastwood Academy, Lyons Elementary School, KIPP Shine Prep, and Jennie Reid Elementary School.
The awards will be announced in September of this year, but even to be nominated is an honor. As the U.S. Department of Education explains, Blue Ribbon status is an affirmation of the work put in by students, educators, families and the communities they serve to ensure a safe and welcoming school environment.
Furthermore, the website reads: "The National Blue Ribbon School flag gracing an entry or flying overhead is a widely recognized symbol of exemplary teaching and learning."
See below for the full list of nominees:
Amarillo ISD – Whittier Elementary School
Banquete ISD – Banquete Elementary School
Birdville ISD – Smithfield Elementary School
Dallas ISD – Barack Obama Male Leadership Academy
Dallas ISD – Dallas Environmental Science Academy
Dallas ISD – Irma Lerma Rangel Women's Leadership School
Edinburg CISD – Austin Elementary School
Edinburg CISD – Jefferson Elementary School
El Paso ISD – Green Elementary School
El Paso ISD – Silva Health Magnet
Galveston ISD – Austin Middle School
Gunter ISD – Gunter Elementary School
Houston ISD – Eastwood Academy
Houston ISD – Lyons Elementary School
Jim Ned CISD – Lawn Elementary School
Judson ISD – Crestview Elementary School
KIPP Houston – KIPP Shine Prep
La Porte ISD – Jennie Reid Elementary School
Laredo ISD – Hector J. Garcia Early College High School
Los Fresnos ISD – Rancho Verde Elementary School
Montgomery ISD – Montgomery Intermediate School
Oakwood ISD – Oakwood Elementary School
San Antonio ISD – Travis Early College High School
Whitehouse ISD – Stanton-Smith Elementary School
Wylie ISD – RF Hartman Elementary School
Ysleta ISD – Valle Verde Early College High School