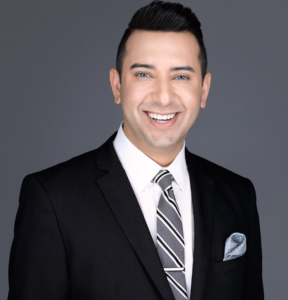 Name: Gary Ismail, CNE
Title: Broker/Owner
Company: Gary Ismail Fine Properties
What was your first job in the realty industry? I started out being a realtor with Coldwell Banker United Realtors.
Where did you grow up? I grew up in Orange County, CA and then moved to Houston, TX at the age of 13 with with my family.
Growing up, what did you want to be? I originally wanted to be a pilot because I love to travel.
What do you do to relax when you're stressed? When I'm stressed out typically an hour and a half deep tissue massage usually works along with some exercise and travel of course . It's always nice to be able to get out of town for a few days and clear your head. Every time I have traveled to Carmel California I seem to come back refreshed and centered. I think it something about the air and the beautiful scenery out there that just decompresses me.
If you could have lunch with a well-known figure (living or not), who would it be and why? If I could have lunch with just one person that would have to be Oprah Winfrey because of all her accomplishments and where she is today.
Where is your favorite place to hang out? My favorite place to hang out would have to be the beach. I'm an Aquarius and something about being close to the water is just super relaxing.
What do you love most about the industry? I love being able to help people obtain the all American dream of becoming a homeowner. I also love working with people and enjoy challenges. Another thing that I love about this industry is that it's not just a 8 to 5 job which gives me a lot of freedom with my schedule.
How do you distinguish yourself from the crowd of agents? I'm not one of those realtors that immediately hands them my business card like a salesperson, which I feel like is a huge turn off for a lot of people. I build rapport and try to establish a personal connection with them and once that has been established that's what I let them know what I really do.
What is the most difficult aspect of your job? Dealing with people that are extremely emotionally attached has been my challenge. It's a delicate dance that you have to do to get them to understand that a home is only worth what a buyer is willing to pay for it at that time.
Where do you go to network and meet new clients? I try to just get out there and attend most events that I get invited to whether they are real estate related or not. Someone is more likely to do business with you if they have met you face-to-face versus calling a broker out of the phone book.
What has been your greatest accomplishment? That would have to be when I got my brokers license and when I was featured on the cover of a magazine.
What was the last good movie you saw or book you read? Hidden Figures, that movie taught me that with persistence and hard work anything is possible no matter what people tell you.
What is your favorite restaurant? Le Colonial
Architecturally speaking, what is your favorite building in Houston? Williams Tower
What kind of car do you drive? BMW 5 Series
Smartphone or paper? Smartphone for sure. I wouldn't know what to do without Siri at times.
What is your favorite city after Houston? Los Angeles
In 10 words or less, what is your advice for someone new to the industry? Be prepared to work weekends and don't expect to make much your first few years.
What's your favorite real estate iPhone/Android app? Contractually
Who are your favorite people to follow on Twitter? Anderson Cooper, Chelsea Handler, and Adam Levine.