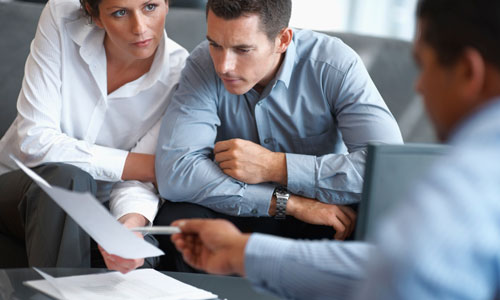 While 70 percent of Americans believe now is a good time to purchase a home, renters aren't necessarily on the same page — only 52 percent of the country's renters believe it's a good time to buy. While the number does represent a majority, it's a substantial drop from the 56 percent who said so in Q1 2017 and the 62 percent who said so at the same time last year. According to Jessica Lautz, NAR's managing director of survey research, the numbers allude to a widening gap between renters and owners. On top of that, the nationwide spike in median home values isn't helping renters either.
"The rise of home prices in many communities is making it more difficult for them to imagine themselves being able to purchase a home," Lautz told Realtor.com.
This represents a key disparity in the housing market: the same NAR report shows that homebuyers believe it is a great time to sell, but they're not taking the leap. Renters still believe in homeownership, but aren't inclined to buy.
Renters aren't alone
It's not just renters who feel this way. Millennials, who generally make less than older generations, are wary of the process of purchasing a home and making a hefty down payment. Burdens such as student loan debt often make it hard to justify forking over so much money at once. In fact, millennials represent the generation least likely to purchase a home in the current market. According to the report, approximately 41 percent of them think it's a bad time to buy.
City dwellers are also hesitant to buy or sell their home. The skyrocketing price of urban homes has led to wariness from residents in many of America's most sought-after metros. Millennials want to live in cities, but due to steep competition, renting often seems to be the only feasible choice.
Unfortunately, some Americans who have either never owned a home before or don't own one anymore are starting to believe the financial hurdle of buying their own place is simply too big. Thirty-one percent of non-homeowners believe it would be very difficult to qualify for a mortgage, up from 27 percent in Q1, according to the report.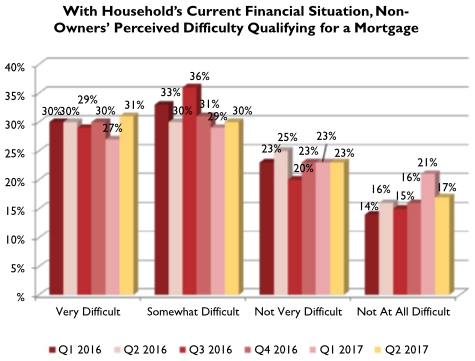 Source: National Association of Realtors