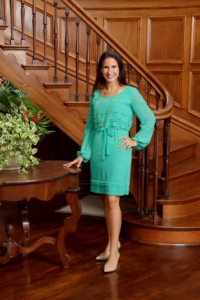 Name: Leann Salmons
Title: Broker Associate
Company: Martha Turner Sotheby's International Realty
What was your first job in the realty industry? Coldwell Banker
Where did you grow up? Houston, Texas baby! I'm a Houston native!
Growing up, what did you want to be? I wanted to be Wonder Woman! Honestly, there are so many things I wanted to be when I grew up. First, I wanted to be a Gerontologist. I became a graphic artist in the late 90s and worked for a printing press company all through college. It wasn't until my college years that I decide I wanted to sell real estate.
What do you do to relax when you're stressed? Exercise and meditation are my go-to forms of relaxation. There is nothing better than a hard work out when you are stressed. Follow that with meditation and you are zen!
If you could have lunch with a well-known figure (living or not), who would it be and why? I would love to visit with Elon Musk. I have always wanted to meet him to discuss environmental issues and commend him on his efforts to change the world!
Where is your favorite place to hang out? I love going to have dinner with family and friends. Houston has such great food and venues. It's hard not to love food in such a culturally diverse city!
What do you love most about the industry? I love my clients! After selling homes for over 15 years, my clients have become personal friends. It is like having friends all over the city.
How do you distinguish yourself from the crowd of agents? I have a primary focus on my clients' privacy and never divulge information about a client or sale. I have represented celebrities, judges, law enforcement, etc. I provide my clients a "private" move throughout the city.
What is the most difficult aspect of your job? The most difficult part of my job is showing houses in Houston heat. Try getting in and out of your car 15 times a day in 100 degree weather!
Where do you go to network and meet new clients? I donate a lot of my time to charities across Houston and I have met some of the best people, many of whom are my clients. Like Martha always used to say "If you help other people get to where they're going, you will get where you are going." This is so true!
What has been your greatest accomplishment? Staying in real estate after all of these years is a huge accomplishment. I have thrived and survived through many recessions and weather events. Learning how to sell in any market, not just the good, is a huge accomplishment. You have to market creatively.
What was the last good movie you saw or book you read? The last book I read was Many Lives, Many Masters by Brian Weiss. It was written by a doctor and is based on a true story with one of his patients.
What is your favorite restaurant? It's hard to say-I have so many! I like Chris Shepherd's restaurant called One Fifth. I also really like The Pass & Provisions.
Architecturally speaking, what is your favorite building in Houston? I am a fan of traditional homes. I like ranch style homes. I like contemporary. I wouldn't say there is just one.
What kind of car do you drive? BMW
Smartphone or paper? Smartphone for sure. Paper? Save the trees!
What is your favorite city after Houston? Any city in California.
In 10 words or less, what is your advice for someone new to the industry? Build a cushion before you go out on your own!
Who are your favorite people to follow on Twitter? I don't have time for Twitter – unless I'm "tweeting" about real estate!