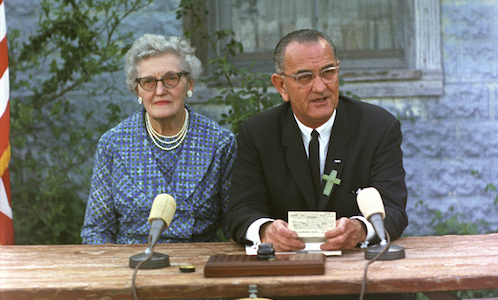 President Lyndon B. Johnson's former home is on the market for nearly $3 million. The 142-acre ranch home is near Johnson City, about 70 miles west of Austin and 10 miles east of the Lyndon B. Johnson State Park & Historic Site, according to the Houston Business Journal. Johnson bought the ranch in 1963, one week into his presidency, and eventually sold it for $300,000 in 1971. The main house preserves some of the original residence, and there is a second house on the land where Secret Service used to stay.
In other real estate news:
Camden Property Trust received the go-ahead for the downtown high-rise apartment Camden Conte. Located at 1515 Austin St., the project is planned to be 21 stories with 271 units and will have an east-west orientation, "creating a more energy-efficient exposure of the facades and maximizing views to downtown and the adjacent Root Square Park," Ziegler Cooper, the architecture firm that designed the tower, told the Houston Chronicle.
Houston-based Camden Property Trust also announced this week that it purchased a new apartment community in Tampa, Florida. The 18-story, 358-unit was developed by Miami-based American Land Ventures and opened in 2016. According to the Houston Business Journal, Camden purchased the building for $127 million, which breaks down to $354,748 per apartment.
Spaces, an Amsterdam-based creative workspace pioneer, chose Houston as the location for its second Texas site. The 29,000-square-foot office, which is being called Spaces Kirby Grove, will be located at 2925 Richmond Ave. and will include a 4,000-square-foot business club that allows members to work and interact, as well as 325 private desks for rent and two meeting rooms that can be rented by the hour or day by members or community residents.