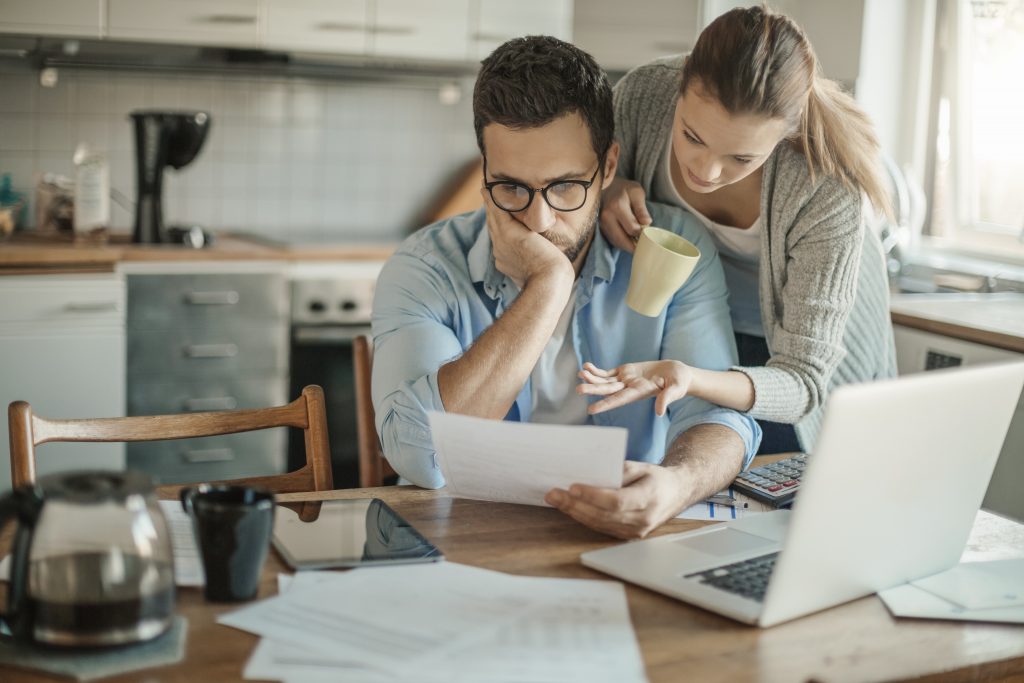 Following a very active hurricane season, the number of early-stage mortgage delinquencies increased in October to 2.3 percent, up from 2.2 percent in October 2016, according to CoreLogic's latest monthly Loan Performance Insights Report. However, the number of mortgages in some stage of delinquency accounted 5.1 percent of all mortgages, down 0.1 from October 2016 and the lowest October amount since 2006.
The inventory rate for homes in some state of foreclosure declined 0.2 percentage points from October 2016's 0.8 percent to 0.6 percent in October 2017. Since August 2017, the foreclosure inventory rate has remained fixed at 0.6 percent. This is the lowest standing the rate has held since it was at 0.6 percent in June 2007.
CoreLogic analyzes all stages of delinquency to keep track of mortgage performance. Gauging rates of early-stage delinquency is critical in knowing the health of the mortgage market, and CoreLogic's key findings include:
Early-stage delinquency for mortgages 30 to 59 days past due was was 2.3 percent, which is down from 2.4 percent in September 2017 and up from 2.2 percent in October 2016.
Mortgages 60 to 89 days delinquent in October 2017 were up 0.2 percent from 0.7 in September 2017 and October 2016.
Serious delinquency, mortgages 90 days or more past due, in October 2017 had a rate of 1.9 percent, unchanged from September 2017 and down 0.4 percent from 2.3 percent in October 2016.
"After rising in September, early-stage delinquencies declined by 0.1 percentage points month over month in October. The temporary rise in September's early-stage delinquencies reflected the impact of the hurricanes in Texas, Florida and Puerto Rico, but now the impact from the hurricanes is fading from a national perspective," said Dr. Frank Nothaft, chief economist for CoreLogic. "While the national impact is waning, the local impact remains. Some Florida markets continue to see increases in early-stage delinquency transition rates in October, reaching 5 percent, on average, in Miami, Orlando, Tampa, Naples and Cape Coral. Texas markets such as Houston, Beaumont, Victoria and Corpus Christie peaked at over 7 percent in September, but are on the mend and improving in October."
In the Houston-The Woodlands-Sugar Land metropolitan area, 10.9 percent of mortgages, including those in foreclosure, were delinquent by 30 or more days, up 5.1 percentage points from 5.8 percent in October 2016. The serious delinquency rate of Houston-The Woodlands-Sugar Land mortgages in October 2017 was 2.6 percent, down from 2.0 percent in October 2016. This past October, the Houston metro area reflected a foreclosure inventory rate of 0.2 percent, down from the previous year's 0.5 percent.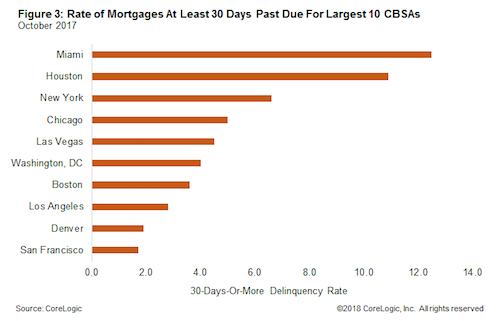 CoreLogic also analyzes transition rates, as early-stage delinquencies are sometimes fickle. In October 2017, 1.1 percent of mortgages transitioned from current to 30 days delinquent. Compared to 1.3 in September 2017, the transition rate was down but still up from 1 percent in October 2016. Ahead of the financial crisis, January 2007 reflected a transition rate of 1.2 percent, before peaking at 2 percent in November 2008.
"While the national impact of the recent hurricanes will soon fade, the human impact will remain for years. For example, the displacement and rebuilding in New Orleans after Hurricane Katrina extended for several years and altered the character of the city, an impact that still remains today," said president and CEO of CoreLogic, Frank Martell. "The reconstruction of the housing stock and infrastructure impacted by the storms should provide a small stimulus to local economies. This rebuilding will occur against a backdrop of wage growth, consumer confidence and spending in the national economy, which should continue to provide a solid foundation for real estate demand in the storm-impacted areas and beyond."