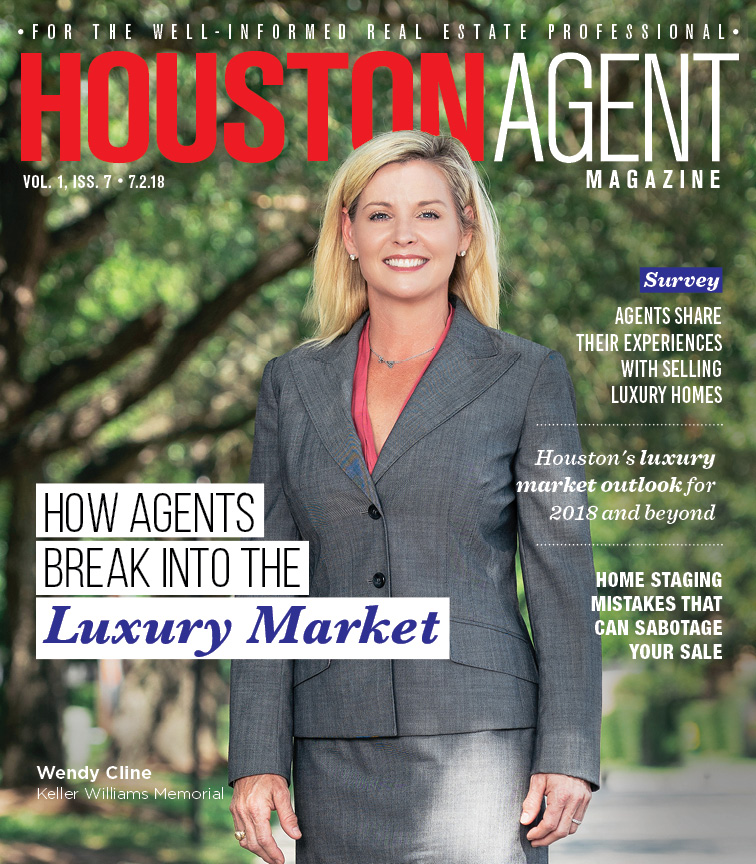 To many agents, working in the luxury market is the pinnacle of the industry. Oftentimes, selling luxury housing means access to a more exclusive (and maybe even famous) clientele, and it definitely means higher closings and commissions. Being labeled as a luxury agent can mean great things for one's career, but being unprepared for the challenge can be just as bad as failing to reach that level in the first place.
The luxury market is taking off in Houston and throughout the country, making for great opportunities for agents looking to break into the business. And while there are a number of an agent's already acquired skills that will come in handy in selling luxury properties, there are challenges and nuances to this market that successful agents must keep a hand on.
"If you're selling a $250,000 home or a million-dollar home, you're still doing the same work, the contracts are the same," says Chad Ray, broker/owner of CR Realty. "You're just dealing with a different level of people economically."
How they got their start
While the luxury agent label denotes a certain kind of success and status, everyone's path to becoming a top producer is different.
Wendy Cline, broker with Keller Williams Realty, started out in the business in 2006, knowing she would have to work up to selling exclusive properties. Her background working in the title industry helped her with connections and with learning the level of service needed successfully build her business, she says.
"I didn't start out with the intent of just selling luxury property," she says. "That market found me in essence because of my reputation for being very aggressive but fair. My experience grew and my knowledge base grew. I got quickly into the luxury market."
Ray started out in the business fresh out of college. Sixteen years later, he is constantly selling luxury mansions in Katy and other West Suburban communities. Like Cline, it also took him time to get to that point.
"Not everybody wants to trust a 25-year-old with a million-dollar home," he says with a laugh. "When you're 25 years old, you only know so many people who want to buy a million-dollar house. As I've gotten older, my circle has also gotten older. They're buying more expensive homes."
In each case, having a steady stream of contacts and referrals has allowed Cline and Ray to move up into the luxury market.
"It's your circle of influence and a who-you-know type of deal," Ray says. "That's what gets you into the luxury business and helps you find clients."
Everyone's path into the luxury market might be different, but there are traits that all agents must share in order to be successful in the field.
Traits of a luxury agent
In essence, a home sale is a home sale. Every deal needs a buyer and a seller, and each party in the deal needs a representative that will work to get them the best terms possible. That is true of luxury homes and starter homes.
Luxury buyers, however, have much different tastes and expectations for their home buying or selling experience. Often, a luxury buyer has purchased other property before, and they are financially literate and have a specific idea of what they're looking for.
"When you're working with million-dollar homes, you're dealing with a more educated buyer," Ray says. "They have more purchasing power, more pull sometimes. It makes the experience smoother. Not as many hiccups in the deal, versus somebody buying a $250,000 house, and they're putting the minimum down, very shaky finances. People buying these homes are putting down $400,000 on a 1.5 million house."
Cline says she treats every transaction and every client the same, but there are some facts and facets of luxury home buying that successful agents must know.
"It's the level of detail," she says. "A good percentage of the time, a luxury home has different features than a regular home, like in-home automation, sound systems, security systems. I do handle some celebrity homes. Privacy is a huge issue, and security is a huge issue. You have to screen applicants."
This level of buyer often knows exactly what they want, and an agent needs to know those desires inside and out or else a deal can go sideways, Cline says.
"You have to be prepared in terms of research," she says. "Ask about the client. If they go to the gym every morning, you don't want to put them 10 miles from a gym. Know if they need airport access on a regular basis. Have a quick interview and take notes. It doesn't matter the tenure of the agent. It's one of the most important things to do."
---
Read more from our Luxury issue
---
Houston's luxury market outlook
The luxury market in Houston is having a solid start to the year. Houston has recently been named the second-most popular destination for corporate relocations in the country, and it was just ranked the sixth highest growth real estate market in the country.
The tastes of luxury buyers just might be changing, too. As younger buyers age into the luxury market, there has been a renewed interest in condo living. In a city defined by its sprawl, the single-family mansion is still king. But there are other options that are enticing buyers, says Will Stolz, a developer of luxury units in Houston and in throughout the South.
"Clearly, single family is a big choice here," Stolz says. "Townhomes, plenty of people live in townhomes here. Condominiums are sort of an emerging product here. A lot of the old product here is pretty flawed. The newer stuff, I still think it would be fair to call it a niche."
Two projects Stolz has in the works — the Sophie and the Giorgetti Houston — point to a new emerging trend in the luxury market. Their both mid-rise condo buildings with a smaller number of units (32 for Giorgetti Houston, 30 for Sophie) that seek to capture a population who would like the amenities of a McMansion but want to live in a particular area. (Average price in both buildings is about $2 million, Stolz says.)
Sophie is more of a traditional building that has attracted empty nesters seeking to downsize but maintain a luxurious environment. Giorgetti Houston is a highly styled, branded project with the Italian fine cabinet maker of the same name, and because of its high-minded concept is attracting a diverse clientele of younger buyers and middle-aged buyers with modern tastes.
"We feel like there is a market for people who intentionally want to be in a smaller building," Stolz says. "There's certainly a market for people who want to be larger high rises as well. We felt like it would be appealing to a subset of the market. Our sales so far are bearing that out."
Developing a successful condominium building in Houston, or any major American city, is a tricky proposition. Land is expensive and competition can be fierce. Then there's having to sell non-existing units, which as many agents know, is no small task.
"I think they're just about the most challenging thing you can market in the residential real estate spectrum," Stolz says. "Especially in the beginning, because typically to finance these buildings you have to presell at least fifty percent.
"The proposition to the buyer is, 'Ok, look. Let me show you these plans,'" Stolz says. "'You're going to have to trust me to actually build them. Oh, and by the way you're not going to get you're home for two years. And by the way, I need a 10 percent deposit that I'm going to hold until we get this done.' It puts a tremendous burden on the sales and marketing team to be able to convey that message."
With stakes that high, having a highly competent sales team and outside broker partnerships is key. Marketing, too, plays a major role in such success.
Marketing for success
A home buyer worth millions isn't picking their real estate agent from a bus stop ad, nor are they likely to give much thought to a placement on Zillow or other platforms, agents say.
To have yourself of your property stand out, the marketing bus be above and beyond, agents say.
"The luxury market, they demand better marketing," Cline says. "Print media, social media, it has to be great."
Like for most properties, Cline also sends out direct mailers for luxury homes. But they aren't just any piece of direct mail.
"We do a bound book. We have designed it and it is property specific that is sent out directly to buyers. And it's branded with Wendy Cline Properties," she says.
Ray says he uses the same photography team for each listing, but that there is extra thought put into marketing luxury homes. For properties that have scenic yards and surrounding areas, he frequently deploys drone photography and video. "It's usually more extensive photography," he says.
While the particulars of how to interact, market and meet luxury buyers is different from that of regular buyers, the basics of the process are the same. An agent who is successful at selling modestly priced homes can move into the more exclusive market so long as they have mastered the basics of the industry, are willing to learn and have a hard work ethic.
"I'm a big fan of earning someone's business," Cline says. "Respecting people's time is huge. I try to make sure I'm capitalizing on the right properties and the right information to make sure I'm effectively working for them."