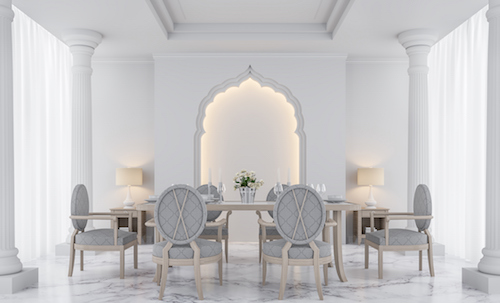 No matter what price range your home is in, vacant homes should be properly staged in order to cater to the price point, target market and style of the home.
Krisztina Bell, a professional home stager with No Vacancy Home Staging, knows that staging upscale luxury homes means emphasizing the word "luxury" in the buyer's mind. Many luxury home buyers are second or third homebuyers and are paying attention to the details.
This includes emphasizing the features of the home that will appeal to luxury buyers at the moment including a chef-style kitchen, spacious master closets and outdoor spaces that may have infinity pools, natural-scape ponds and saltwater pools.
"Agents and sellers should be sure they are interviewing true professional and certified RESA home stagers that utilize 'current' home staging trends, not the old-school style staging," she says. "It's all about removing the heavy, dark, patterned draperies, traditional style and ornate wood furnishings and replacing with neutral wall colors, clean and simple furnishings that are minimal and portray more of a five-star hotel style of living."
Bell highlights some of the main do's and don'ts that many agents and sellers need to know about when staging a luxury home because, as Bell says, "staging is all about getting any home in its most marketable condition to sell faster and for top dollar."
DO emphasize the upscale and custom features of a home with staging but DON'T overdo it.
DO hire a professional home stager that has current furnishings and decor in their inventory. View the company's website photo gallery and be sure the style and look is exactly what the property is going to need to get the home in its most marketable condition to sell.
DON'T stage with grandma's antiques and heavy ornate furnishings. DO remove outdated furnishings and replace with staged furniture that is minimalistic and more appropriate for the style of the home.
DO paint brightly colored walls with a neutral beige or grey paint color.
DO remove all heavy draperies to let more light in and create clean lines for more attractive photos that will be viewed online by buyers. Photos are the most important factor when buyers are deciding what homes they want to go view with an agent.
DON'T take your own pictures with a cell phone. DO hire a professional photographer and have them take professional high-resolution photos and possibly have a video made. You can also consider paying for a drone to take footage of the entire property highlighting the luxurious features of the home.
DON'T place furnishings or decor that block light or views.
DO stage the home with tasteful furnishings that make it easy for prospective buyers to walk straight to amazing ocean, mountain or island views every single time.
---
Read more from our Luxury issue