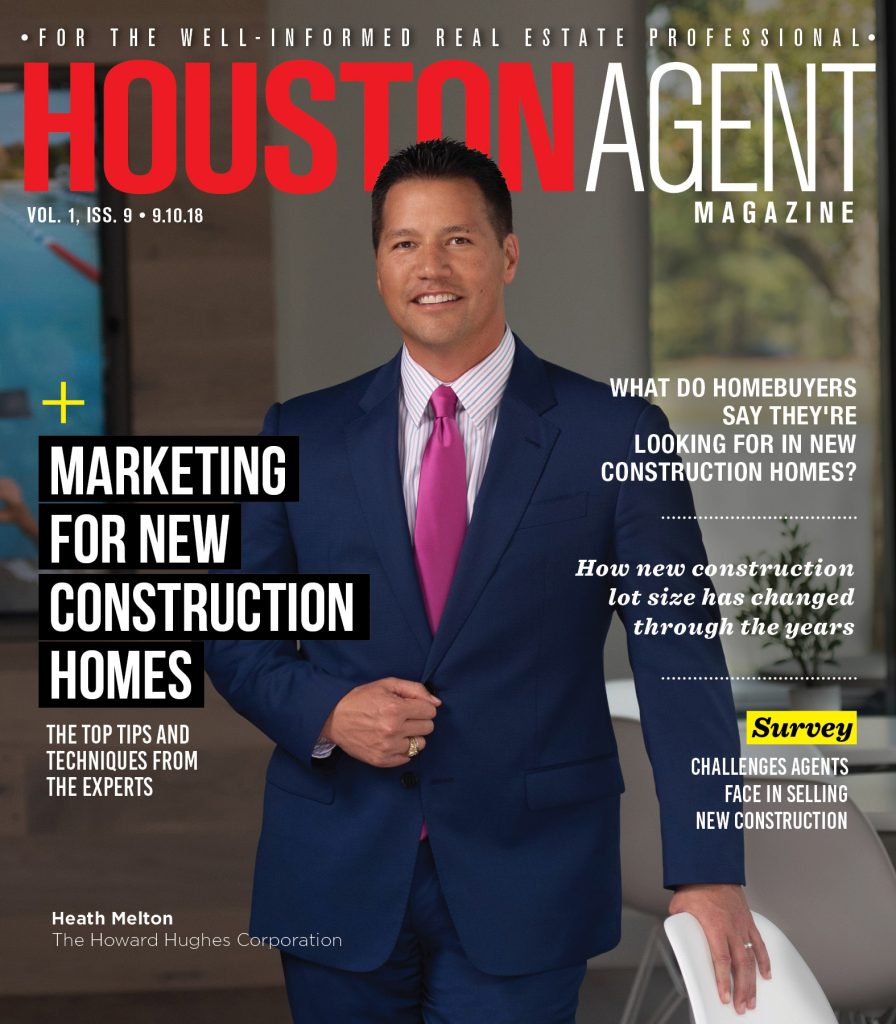 To launch and execute a comprehensive marketing strategy that generates measurable results, it's important for developers to effectively reach both buyers and real estate agents. As the Houston market continues to see great growth, the most successful developers are executing thoroughly researched and planned marketing strategies to ensure their communities reach the most qualified buyers, as well as the most well-connected agents.
Multi-faceted, targeted marketing
With a number of communities underway, many developers are working to integrate a variety of marketing techniques to target the right customers for each master-planned community.
The Howard Hughes Corporation has three master-planned communities in the greater Houston area: Bridgeland, an 11,400-acre community in the Cypress area; The Woodlands, one of the first premier master-planned communities in the nation comprised of over 28,000 acres; and The Woodlands Hills, a 2,000-acre community in the Conroe/Willis area.
"Marketing a large, master planned community in a highly-competitive environment requires cutting-edge initiatives that embrace both proven techniques and emerging trends," says Heath Melton, vice president of master planned communities, residential development at The Howard Hughes Corporation. "We implement a multi-faceted marketing approach that is targeted and measurable. Our strategic digital campaigns are designed to drive qualified traffic to our website, model homes and welcome center. These initiatives are hyper-targeted, ensuring we reach potential buyers."
---
Read more from our New Construction issue
---
The Howard Hughes Corporation creates comprehensive marketing plans that consist of strategic ad placements across a wide-variety of mediums, which have resulted in a 30 percent increase in sales in 2017 and a 16 percent increase year-to-date in 2018.
With an office located in Houston, Caldwell Companies has three communities in the Houston area. Towne Lake is a 2,400-acre master-planned community located in the Cypress-Fairbanks area of northwest Houston; Del Webb Sweetgrass, an active adult community for ages 55 and up, sits on 500 acres about 25 miles from downtown Houston; and Willowcreek Ranch is a gated community in northwest Houston.
The breakdown of the Caldwell Companies intergenerational and age-qualified communities is approximately 70 percent and 30 percent, respectively. This means both types of properties require different marketing strategies based on how target buyers consume information.
Caldwell Companies is keenly aware of their target demographics when creating a marketing strategy for each development. The company considers these demographic details when determining the best marketing channels: digital, web and signage.
"Each project is different based on the demographic to whom we're marketing," says Peter Barnhart, executive vice president and partner, with the Caldwell Companies. "It's important we have a solid web presence for all generations. For example, we use social media to reach millennials, but also need the traditional signage channels to direct them to the developments."
Agent-partnered marketing
When selling homes in new developments, real estate agents are an integral part of the marketing and selling process. This is a true partnership — developers and real estate agents working together to expand the reach of available homes and bringing qualified buyers to their potential new homes. To build strong partnerships, knowledge sharing, communication and ultimately, trust are the pillars of mutual success.
"Two-thirds of our sales are represented by a real estate agent. Realtor relations are a large part of our marketing strategy," says Barnhart. "It's important we stay engaged with the local agents, and make sure they have the most relevant available information about our developments. It's about building relationships and trust."
"Realtors are are essentially selling our communities, so we want them to be equipped with the tools for success," says Melton. "We strive to be in constant communication and host quarterly focus group meetings to gather their important feedback."
Incentivizing real estate agents is a also tactic in which The Howard Hughes Corporation has seen success. The company offers resources through its Realtor Relations program that are exclusively available to real estate agents, to provide them with the tools to help sell homes. This includes an agent-specific Facebook page that contains all community maps, tax rates and anything new happening in the community.
"We have a highly-acclaimed Realtor Relations program, a members-only group that agents strive to join by becoming top-producers in our communities. An agent becomes a top producer by closing two or more homes in any of our three communities," Melton says. "These valued agents become the best ambassadors for our master planned communities, and they appreciate the high level of service we offer."
Kiesha Curtis, an agent with Realty Kings Properties, used to work as a seller's agent and still consistently works with developers as new construction sales currently make up 60 percent of her business, and says that developers are working hard to create quality relationships with agents. This includes hiring marketing specialists who are reaching out to agents with information about new communities, providing education classes as a way to connect with the agent-community and even family-focused events where agents can bring their whole family.
"I think the developers are getting really creative and doing a good job of getting the word out to agents and providing incentives that the agents want," Curtis says.
Consumer-focused marketing
Creating a consumer marketing strategy requires a different approach than working with real estate agents. One example of this is appealing to the particular life stage of buyer.
"The beauty of a master-planned community is we can service the needs of buyers as they experience different life stages," says Melton. "Our approach varies to strategically target buyers at each stage and the different price points to appropriately connect with them."
Reaching these buyers comes down to ensuring the messaging aligns with what matters most to them, and their current stage of life.
"The messaging we use in our marketing efforts is designed to speak to these varying audiences so that the content is relevant to them," says Melton. "For example, in Bridgeland we are seeing young families with school-age children; where in The Woodlands, we see more seasoned buyers."
Curtis agrees that working with developers brings an ease to the selling process that you can't get through resale homes.
"A lot of my buyers are first-time homebuyers and a lot of them are concerned about purchasing a home and then having to put in even more money to renovate it or on maintenance," she says. "The ease of the process of bringing them in to see a new home and knowing that they will have less challenges and get a warranty from the builders does a lot to ease concerns. It encourages me to work with builders."
Highlighting available amenities is another important aspect of creating a targeted consumer marketing plan. According to Barnhart, the top amenity consumers look for when buying in a new development is access to outdoor trails to use as a way to spend more time outdoors with their families and meet their neighbors.
The National Association of Homebuilders also reports in its Housing Preferences of the Baby Boomer Generation study that the top four-most wanted amenities stayed consistent across generations. "They all desire to live in a community that's typically suburban, with close proximity to a park area, and that has access to walking/jogging trails," the report notes.
"The level of amenities we offer in our community are often one of the key influences in our buyer's decision making process," says Melton. "We use several different sources when planning our community prior to implementing new amenities; including, national reports from market research agencies, current home owner feedback, real estate agent feedback, and studying and researching what other top developers are doing in our market and nationwide."
Another instrumental piece of a consumer marketing strategy is effectively conveying the lifestyle that potential buyers could live, if they purchased a home in the community.
"Our marketing campaigns are designed to set us apart by showcasing our unique amenities and communicating the high-quality of life our residents enjoy," says Melton. "Our residents are part of a community that enriches their lives. Delivering that message through digital channels resonates with buyers and creates an aspirational desire to be a part of one of our master planned communities."
It's no surprise that traditional marketing methods no longer generate the results, and it is more difficult to measure ROI.
"We are moving away from is traditional methods such as print and broadcast that don't have the benefit of targeting and typically aren't measurable," says Melton.
"While certain niche print outlets have continued to work really well, traditional newspaper use has gone down dramatically over time," says Barnhart.
While digital strategies are arguably the the best way to capture a potential buyers' attention, getting buyers to the communities still requires a traditional approach to show consumers how to arrive. Caldwell Companies relies on strategically placed signage to help guide consumers to the communities. "Signage continues to be an important component of our successful marketing strategies," says Barnhart.