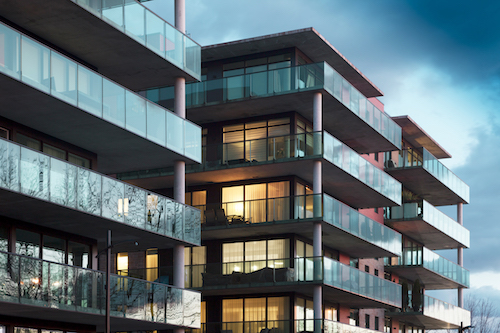 Real estate investors love to justify their purchases by arguing that land is the one commodity which can never be manufactured. In modern Houston, however, there's definitely a catch: developers are building up every bit as much as they're bulldozing from left to right. The result of this increase in vertical living is a frenetically growing metropolis on track to surpass Chicago as the third largest city in the nation.
Literally Moving Up in the World
Especially inside the 610 loop, the luxury high and mid-rise condominium category continues to explode. It won't come as a surprise to anyone that the prices of these luxury high-rise condos tend to exclude all but the most affluent of home-buyers. For those with busy schedules, it doesn't always make sense to face a grueling hour-long commute twice a day — especially not when time is already a precious commodity.
Buyers will pay a premium for the convenience of the location and the lifestyle opportunities high-rise living opens up for them. Ideal residents are willing to shell out for easy access to their workplace, local parks, favorite restaurants, shopping, and other ultra-accessible accommodations within comfortable walking distance. Given the remarkable amenities offered on top of the location, the prospect of living vertically is tough to turn down.
High-Rise Condo and Rental Unit Development
High-rise development teams have been wise to select project locations in areas with premium walkability. Currently being developed on San Felipe in Uptown, Arabella is a 33-story, 99-unit high rise designed by a New York architectural team. Depending on the desired amount of space, units here can currently be purchased from the $800,000s all the way up to $4.5 million-plus.
2017 also saw construction wrap up on the luxury rental Market Square Tower, a forty-floor skyscraper with two entire floors dedicated to amenities alone. On the roof, an infinity pool with a glass edge overlooks downtown Houston. This building offers studio units to fully appointed penthouses giving residences an exceptional downtown experience.
Earlier in 2018, long-awaited construction began on Hanover River Oaks. Featuring 38 floors and a planned sum of 370 rental units, Hanover is destined to become Upper Kirby's newest luxury tower by 2020.
Other luxury high-rise projects include The Belfiore on South Post Oak Ln, The Wilshire (across from Arabella) and The River Oaks high-rise condominiums on Westheimer. These are just a few of the most recent towering multi-family complexes to grace H-town's widespread skyline.
If you're looking to lease or buy in one of these high-rise buildings, using a Realtor who thoroughly knows the area can be beneficial. They'll help you review competing buildings and ensure a well-informed financial decision is being made when you secure your desired living space.
Between ongoing economic growth and the continued swell of Houston's population, any temporary stalls for high-rise, condo, and townhouse development projects are unlikely to derail the long-term growth of multi-family developments throughout the city.
Who in Houston Is Buying Condos & Townhomes?
The Houston-Galveston-Brazoria Consolidated Metropolitan Statistical Area (CMSA) spans 8,778 square miles of land, an amount of space larger than the states of New Jersey, Connecticut, Delaware, or Rhode Island. While it's true the living space found in some of the outlying suburban communities like Sugar Land, Katy, Pearland, and The Woodlands offer favorable values for single family homes—especially compared to other markets outside of Texas—many of these locations are between 15 to 30 miles of freeway traffic away from both the Energy Corridor and downtown Houston. That could be a lot of time spent on the road, rather than at home or enjoying time with friends and family.
Instead, condominium residents are choosing to wake up always knowing they're a short walk or light-rail ride away from the office. The rampant increase in urban condo living proves those who can afford it recognize the option as more than just a tempting choice.
Space is limited in coveted urban areas, and aging single-family homes and yards are taking up massive acreage, so expect these single-family homes to continue being redeveloped to make way for newer multi-family units with several stories, able to house significantly more residents.
Life After Hurricane Harvey: Property Values Soar
Believe it or not, in the few years following catastrophes like a hurricane, real estate values have a tendency to skyrocket. The Houston housing market post-Harvey is no exception.
It's important to note that with Houston's job rate being contingent primarily on the energy industry, the local market's success is more volatile than the rest of the state. As a result, new housing developments will always face a few snags and hold-ups during production. But with the price of oil per barrel continuing its current steady rise, unemployment rates in the state of Texas have reached the lowest they've been in the last 40 years.
---
About John Daugherty, Realtors
Since 1967, John Daugherty Realtors has been firmly established as a proven leader in luxury Houston real estate. To browse the finest property listings in the city, visit johndaugherty.com today.
---
Read more from our New Construction issue