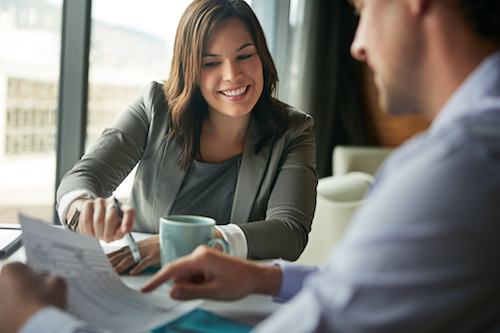 Only a few months ago, most economists, mortgage lenders and others who closely track the mortgage market assumed interest rates would continue rising through 2019, driving up the cost of home purchases. But several weeks into the new year, those prospects have reversed in remarkable fashion. With high rates named among the key contributors to the year-end slowdown in home sales, this recent downtrend could prove crucial once the spring homebuying market kicks off.
"The U.S. economy remains on solid ground, inflation is contained and the threat of higher short-term rates is fading from view, which has allowed mortgage rates to drift down to their lowest level in 10 months," said Sam Khater, chief economist of Freddie Mac, in a Feb. 7 report on new mortgage rate data. "This is great news for consumers who will be looking for homes during the upcoming spring homebuying season."
In that weekly report, U.S. mortgage rates inched lower once again to an average APR of 4.41 percent on the standard 30-year fixed-rate loan. That put home lending rates at their lowest in 10 months and just 0.09 percent above year-ago levels. According to Khater, these low rates combined with growing home inventory in much of the country only add more fuel to what could turn out to be an early rally for the housing market this year.
"Mortgage rates are essentially similar to a year ago, but today's buyers have a larger selection of homes and more consumer bargaining power than they did the last few years," Khater said.
Economists eye the Fed
Low rates benefit buyers in a position to commit now, but their movements over the next few months will depend on a host of market forces. So too will the Federal Reserve's next move, as the bank monitors the economy and determines the baseline federal funds rate that exerts significant financial influence.
However, the Fed has been hard to read in recent months, throwing lenders for a loop. Before the central bank's final meeting of the year, the market consensus was that the Fed would raise rates for the fourth time in a year and then perhaps three more times in 2019. While December's incremental rate hike happened as planned, troubling economic data gave Federal Reserve chairman Jerome Powell cause to reverse course.
Now, according to a recent survey of economists by the Wall Street Journal, most market watchers don't expect the Fed to raise rates again before June. Moreover, a growing number of economists said they expected only one more rate hike in late 2019 at most, effectively keeping borrowing costs much lower than previously anticipated through 2019 and into 2020.
Since mortgage lenders set interest rates according to forward indicators, including Fed meeting minutes and the consensus of economists, reduced expectations on rate increases could keep mortgages more affordable in the first half of 2019. Of course, there is a good deal of uncertainty baked into every economic forecast, so even expert consensus might not pan out perfectly in the end.
It doesn't help that economists surveyed by the Journal this month did not report strong confidence in Fed chairman Powell himself. When asked to grade his performance a year into his role, the panel gave him an average score of B-minus, with many citing confusion on his interest rate guidance.
"His inconsistent communications on future rate hikes gave traders and economist[s] whiplash and was an important reason for the stock-market selloff in the fourth quarter," said one economist in the survey. "He has a ways to go on the Fed chairman learning curve."