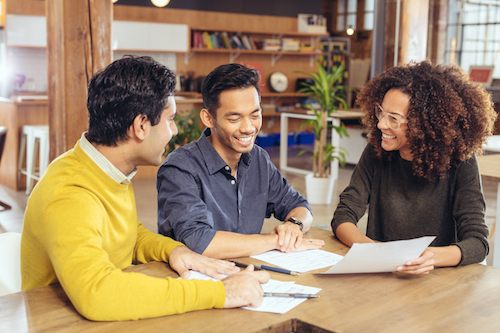 The state of the U.S. housing market has shifted rapidly in the last few months, but are consumers keeping up? A new survey from the National Association of Realtors makes the case that low mortgage rates and increased inventory did in fact move the needle in the home purchase market, making prospective buyers more serious about pulling the trigger. The question now is whether renewed optimism on housing will translate to sales.
NAR's quarterly Homeownership Opportunities and Market Experience (HOME) survey found homebuyer sentiment improving at the beginning of 2019. Out of more than 2,700 respondents to the survey, 65 percent agreed that Q1 2019 was a good time to buy a home. Most respondents in agreement (37 percent) felt strongly that conditions were good for homebuyers, a 3 percent increase from the previous quarter. Meanwhile, just over a third of respondents (35 percent) said they didn't think Q1 2019 was the right time to buy.
According to Lawrence Yun, NAR chief economist, this increase in buyer sentiment is reflective of several positive trends: The economy is still relatively strong, sales inventory is up, mortgage rates are in check and even price growth is moderating. Yun also said this confidence was borne out in reports from Realtors, who noted an uptick in showing traffic since the start of the year.
Opinions varied between demographic groups and regions of the country. While a clear majority of respondents age 39 and above considered Q1 a good time to buy a home, only 51 percent of Millennials (age 38 and younger) agreed. A similar pattern emerged geographically: Between 64 and 71 percent of respondents in the Northeast, South and Midwest said it was a good time to buy, while only 53 percent of residents in the West region said the same. Yun remarked on stark regional differences in other survey questions on the perceived health of the economy and home price changes.
"A high percentage of the Western population believes that prices increased in the past year, while – possibly for the same reason – a higher segment from the West compared to other regions say prices could fall in the next 12 months," Yun said in a press release. "As to the broader economy, the perception is weaker and showing cracks in the Midwest."
It's not yet clear if this shift in sentiment will translate into sales, although there have been signs of a positive reaction. NAR's pending home sales index grew 4.6 percent in January, an early indication that consumers were acting on more favorable market conditions. Mortgage interest rates have also continued to trend downward, to the point where the average commitment rate on the standard 30-year fixed loan was below year-ago levels by the end of February.
"The Federal Reserve's decision to refrain from any foreseeable rate hikes was beneficial to potential buyers," Yun said. "That move directly contributed to mortgage rates declining in quarter one, which provided a second-chance opportunity to those looking to buy who were priced out last quarter."