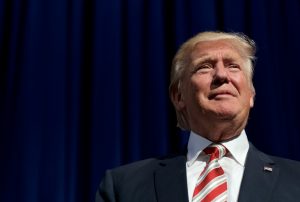 President Trump to speak at NAR conference
The National Association of Realtors announced in a May 12 press release that President Donald Trump would address attendees of its Legislative Meetings & Trade Expo in Washington, D.C. this week. While NAR said it invites the president to each of its annual legislative meetings, President Trump will be the first sitting U.S. president to speak at an NAR meeting since George W. Bush in 2005.
"We welcome the President of the United States to our conference," the association said in a separate FAQ document. "We believe a sitting U.S. President's involvement in our conference underscores the importance of real estate and the role Realtors play in selling the American Dream of homeownership."
It went on to clarify that NAR's invitation and President Trump's appearance did not constitute an endorsement of the president's ongoing re-election campaign, nor did NAR plan to donate to the campaign.
Redfin-RE/MAX partnership ends abruptly
Barely two months after announcing the start of an exclusive referral partnership, RE/MAX and Redfin now say they are terminating the arrangement. According to RISMedia, RE/MAX chose to pull out of the deal after it "developed concerns" about another service just announced by Redfin, Redfin Direct, that threatens to reduce the role of the buyer's agent in a home transaction.
"Given Redfin's recent announcement regarding a program that would encourage buyers not to use agents on listings where the seller is represented by Redfin, we cannot continue with an official, corporate-level relationship at this time," RE/MAX said in a May 13 statement, according to RISMedia. "We have begun the process of dissolving our exclusive referral agreement with them beginning today."
Redfin's response essentially affirmed that characterization of Redfin Direct.
"Redfin understands this concern, as we employ thousands of licensed professionals and believe the vast majority of homebuyers need professional advice, and will happily pay for it," the company wrote in response to RE/MAX. "But we also have a duty to get as many offers for our customers' listings as we possibly can, and to give those listing customers the best value. We believe in consumer choices; our mission is to redefine real estate in consumers' favor."
Zillow CEO voices optimism on iBuyer model
In an interview with The Wall Street Journal, newly appointed CEO of Zillow Group, Rich Barton, discussed in detail his thoughts on the modern real estate industry and his company's growing role within it. Barton was named CEO of Zillow in February after having previously served in the same role more than a decade earlier. (He co-founded Zillow in 2005 but left his position of executive chairman in 2010.) Before his time at the real estate startup that has emerged as a key player in the industry, Barton helped launch Expedia in 1999.
Speaking with the Journal about his history with the company and its future, Barton said Zillow's iBuyer platform, Zillow Offers, didn't represent an attempt to compete with or replace traditional real estate agents. Instead, Barton said Zillow could "hand off" sellers to partner agents in the event a homeowner chose not to accept Zillow's offer on his or her property.
"We actually think this increases the size of our traditional business," Barton said.
Zillow hopes annual revenue from its Offers business will grow to $20 billion within the next five years. While a portion of that revenue would come from fees charged on each transaction, the bulk of its potential is predicated on home prices remaining historically high. Barton said that he doesn't worry about Zillow getting "caught holding a lot of houses in a down market" because it can always respond by increasing fees. The company continues to test the financial viability of the Zillow Offers model using both historical models of home price behavior as well as real-world testing in the handful of markets where the service is currently available.
NAR advises members on pending class-action lawsuits
Last week, the National Association of Realtors released a series of FAQs related to Moehrl v. NAR et al., one of three similar class-action lawsuits pending in U.S. Federal court that have received considerable media attention. In it, NAR acknowledges that the lawsuit and other related cases are only expanding in scope, most recently having grown to encompass four MLSs in Missouri.
The FAQ also advises Realtors on the key issues at hand in the lawsuits, as well as how agents can address the situation with clients.
"Brokers and agents are encouraged to have transparent conversations with current and prospective clients about the services they will provide and how they will get paid for those services. This lawsuit doesn't change that," NAR wrote in the FAQ.
The original complaint in the case was filed by Minnesota resident Christopher Moehrl and names multiple defendants including Realogy, HomeServices of America, RE/MAX and Keller Williams, in addition to NAR and numerous MLSs throughout the U.S. The plaintiffs allege NAR, MLS operators and real estate brokers have been conspiring to artificially inflate commissions paid by home sellers, in violation of federal antitrust laws.
"We won't speculate on what may or may not happen," the FAQ concluded. "What we can tell you is how confident we are in our position about the clear pro-competitive, pro-consumer benefits of the MLS system."
GSE refinancing crackdown begins with VA lenders
The Department of Veterans Affairs issued federal subpoenas to at least eight mortgage lenders in what could be the start of a broader effort to curtail excessively risky lending through government-backed mortgage programs. Politico reported May 7 that the lenders subpoenaed were suspected of engaging in a practice called "churning," in which the same property is refinanced multiple times in quick succession. The process could be aided under certain government lending programs, including VA and FHA loans, which in some cases will approve a government-backed loan refinance without requiring a home appraisal or inspection. Federal agencies that offer mortgage guarantees, like the VA and the Department of Housing and Urban Development (which administers FHA loans) have recently worked to curtail these forms of refinancing as well as other types of loans considered very risky.