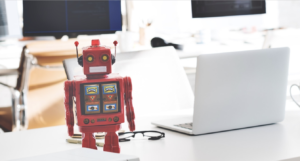 Back when chatbots first gained traction in 2016, most people thought they'd never engage with a virtual assistant to get the information they needed, let alone try to use one in their own business.
But now it's 2019 and artificial intelligence has moved past its initial hype phase. Chatbots have not only managed to survive beyond this first phase but are thriving because of their tangible benefits. With more and more people looking to ensure customer engagement and loyalty in a space where potential clients are flooded with options (read: competitors), chatbots are increasingly being implemented.
The real estate industry is no stranger to the challenges of generating leads and closing transactions. These days, most new customers who aren't referred directly to you by someone you know are converted to leads online. That's why, in order to continue growing your real estate business, you can't just let online traffic go by without trying to capture it. Consider chatbot technology as potential item in your tool box, which can help you not only retain your customers, but also attract new ones.
Pick your bot type
To get started, one needs to figure out what medium makes the most sense for one's business:  Facebook, live chat, automated email or SMS bots. If you happen to have a robust Facebook presence with engagement and a good following, it makes sense to deploy a bot on Facebook. If you generate a good amount of traffic on your website, then a chatbot that pops up and assists your visitors in their journey is your best bet. Many companies — one being WotNot, the one I founded — will build these for you. If you have a robust list of emails or mobile phone numbers belonging to prospects who are at the top of the funnel  —  generally people you don't know and who might be unsure of actually buying or selling a property — this may signal that automated email or SMS functionality is one to pursue.
No matter what method you choose, it's important to stay ahead of the trend and offer bots that will be helpful and engaging with prospects as consumers become more and more familiar with artificial intelligence. Here's a look at a few tasks that bots can take on to help real estate professionals.
1. Gathering more leads
Bots can be programmed to take on tasks like collecting basic information in the form of asking questions and generating relevant answers resulting in the capture of prospects' email addresses. Using natural language generation, your custom chatbot determines the prospect's exact needs and relays the required information without you having to step in, or without your customers having to download an additional app.
The chatbot can even transfer the conversation to a human agent, if need be — here's how my company handles that task to give you an idea of the process. Taking time out to ascertain the overall seriousness of the lead from scratch is pretty time-consuming and may indeed require human intervention to accomplish. But if you wish to be successful when it comes to real estate, you need to capture as many leads as possible to make sure that you have a specific number of new prospects on a monthly basis.
2. Delivering property information
One of the biggest problems in lead capture is follow-up. But when a user lands on your website, they can immediately get their queries answered by chatbots without having to wait for assistance from a human agent or assistant in order to get answers about the property they're interested in.
Depending upon your multiple listing service, a chatbot may be able help you search MLS listings for buyers' specific criteria. For example, a chatbot used by real estate professional Kathryn Harbour, with Keller Williams Realty Signature Partners in Marietta, Georgia, uses customers' preferences to search the MLS for listings that match. The bot assesses a prospect's search requirements, scans the MLS for relevant data and displays listings that are active within the chat interface itself.
3. Scheduling assistance
Once the prospect is deeper into the sales funnel, a bot can find good times for home tours and in-person meetings. Chatbots can be integrated with scheduling tools like Google Calendar, Showingtime, DotLoop and others to show an agent's or property's available time slots. This, in a way, takes care of introducing the client and the real estate agent. After this point, the agent or sales team can take over the reins.
And if prospects are too busy or see properties in person, chatbots can guide them through a quick virtual tour through the bot itself without them wasting time waiting to get an inside look (here's an example of how international real estate company Zaveri Realty accomplishes that task).
4. Keeping your CRM fresh
Thankfully, implementing chatbots in your business does not add to the data chaos. In fact, data handling can become easier with chatbots because they can feed information directly to your CRM. For example, WotNot integrates with Salesforce, FollowUp Boss, HubSpot and more.
One way in which a chatbot conversation is different than the one you might have over the phone is its ability to be logged and tracked. This comes in very handy when a human agent takes over from the bot and interacts with the lead. With access to prior interactions, you have a better understanding of the lead's preferences even before you talk to them.
Chatbots can also be trained to follow up on your leads via the medium that prospects choose. The bot can ask whether they want to be given more information via email, text message or a call with the real estate agent. Follow-up messages or emails can be automatically sent to the prospect without manual intervention, or you can follow-up with them yourself.
5. Expanding globally
Chatbots can communicate with your targeted audience in their native languages, which further personalizes the customer experience. This also contributes to increased engagement and the possibility of elevating your brand to new markets that you might not have been able to reach before.
Of course, you need to have the ability to serve clients who don't speak English as their primary language once you get beyond this first step in the sales funnel. So make sure you or your brokerage has the support staff to back you up.
Mitul Makadia is the founder of WotNot. With his industry experience, he has rapidly developed WotNot and gained a strong foothold in the chatbot space, working with businesses across multiple verticals. He has over 10 years of experience in the fields of machine learning and artificial intelligence and passionately leads teams of software engineers and marketers, empowering them to come up with chatbot solutions aligned with the clients' needs.