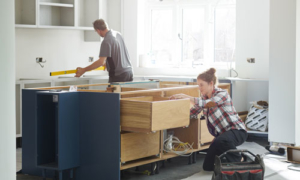 The pace of growth in home improvement spending could soon slow to a crawl.
That's according to a new estimate by the Remodeling Futures Program at Harvard's Joint Center for Housing Studies, which projects that spending on remodeling will grow by just 0.4 percent by the second quarter of next year—down from 6.3 percent this quarter.
The culprit, according to the Center? Weakening home sales, a sluggish new construction market and slowing growth in permitting for home improvement projects have all impacted the pace of remodeling, particularly projects undertaken with the goal of putting properties on the market for a quick sale.
But mortgage rates could impact the situation in a positive way, according to Chris Herbert, Managing Director of the Center. "[i]f falling mortgage interest rates continue to incentivize home sales, refinancing, and ultimately remodeling activity, the slowdown may soften some," Herbert said in a press release.
Meanwhile, the average length of time sellers had been in their homes hit a new high of 8.09 years in Q2, according ATTOM Data Solutions. To give that some perspective, the average homeownership tenure for the seven years leading up to the housing crisis of 2007-08 was about half that—4.21 years. The rise of aging in place and a desire to hold onto mortgage rates obtained when rates were at or near their post-recession low point may be contributing to people staying in homes longer. While it may be a stretch to say these factors are causing a reduction in remodeling, they are part of a context that may put a strain on remodeling activity if they persist, since preparing to sell is a significant reason many homeowners opt to remodel.
Homeowners spent $322 billion on remodeling projects in Q2 of this year—a number that the Center's Leading Indicator of Remodeling Activity index expects to rise to $331 billion by Q4, before dipping back down to $323 billion by Q2 of next year.