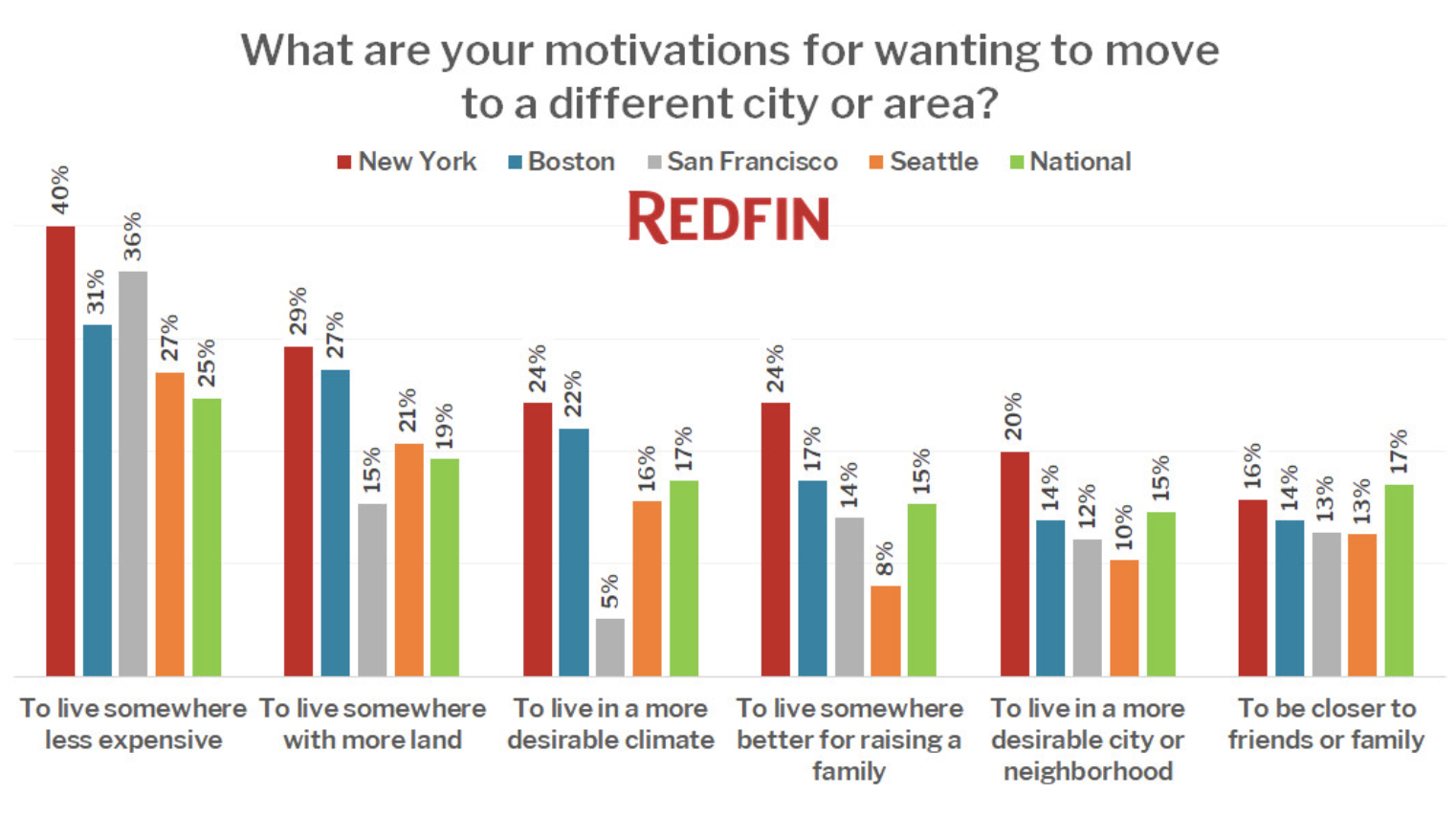 More than half of workers in large cities said they'd leave their urban dwelling for a smaller city if they could work from home permanently, according to a new Redfin survey.
And 28% of those survey respondents who have been working from a home office during the pandemic say they expect to continue doing so after the stay-at-home orders are lifted.
In New York City, the epicenter of the pandemic in the U.S., 60% of respondents said they would consider moving if they didn't have to go into the office. That's compared to 52% nationally.
This current work-from-home situation has been a major shift for most workers, according to Redfin. The survey shows that roughly 9% to 16% of respondents worked from home prior to the pandemic. That statistic jumped to between 73% and 85% following the stay-at-home orders.
Though the pandemic is certainly driving the thought process about working from home, the high cost of living was the biggest reason respondents in New York, San Francisco, Boston and Seattle wanted to leave. The desire for more land, a better climate, a better place to raise a family, a more desirable city or neighborhood and proximity to friends and family were other motivators for respondents wanting to move.
Redfin CEO Glenn Kelman said in a press release that his company is already getting ready for the "seismic demographic shift" away from large municipalities in favor of smaller cities.
"Prior to this pandemic, the housing affordability crisis was already driving people from large cities to small. Now, more permissive policies around remote work, and a rising wariness about close quarters, will likely accelerate that trend," Kelman said. "We expect to see more people commuting once a week from Sacramento to San Francisco, from Tacoma to Seattle, from New Hampshire to Boston. Some won't commute at all, choosing instead to work completely virtually from a small town, perhaps where their parents still live."