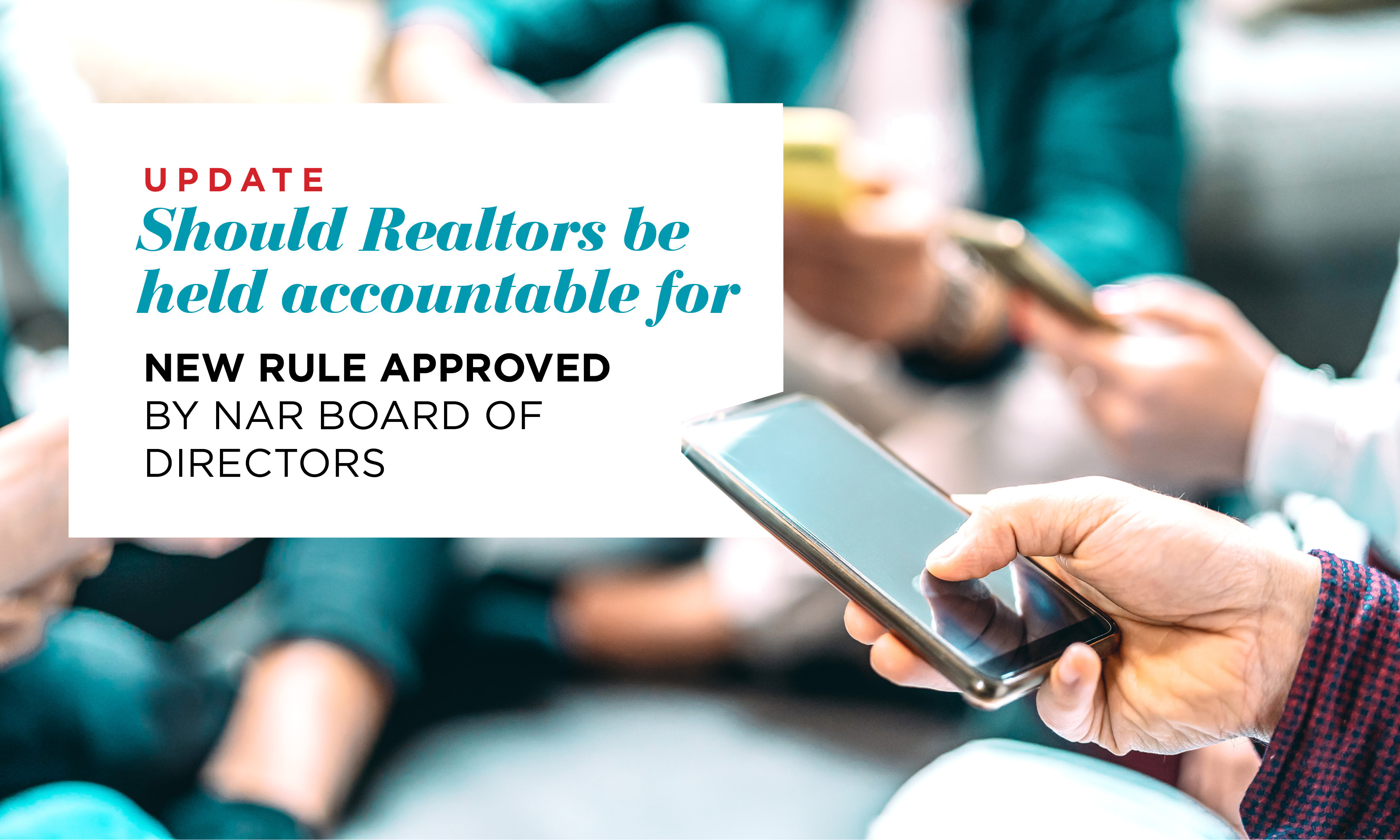 Realtors who use harassing or hate speech could face fines by the National Association of Realtors, according to a proposal approved by the NAR Board of Directors at its 2020 Realtors Conference & Expo.
The association issued a press release noting that this includes discriminatory speech against those based on race, color, religion, sex, handicap, familial status, national origin, sexual orientation and gender identity.
Prior to approval of the measure, Realtors could be sanctioned only for using hate speech in their official capacity as a Realtor. The new rule means they could be fined by the association for using hate speech outside of work.
"The Professional Standards Committee recommendations come as NAR works to reaffirm its commitment to fair housing and position its members to lead America's real estate industry in the fight against discrimination and inequality," the association said in a written statement.
NAR President Vince Malta applauded the effort to "raise the bar on the professionalism and private speech of America's 1.4 million Realtors."
"Combatting and overcoming bigotry and injustice starts with each of us," Malta added. "Realtors today took tangible steps to ensure we are held to the highest possible standard while providing a mechanism of enforcement for those who violate our new policies."
NAR noted that the effort came following various complaints about discriminatory speech posted by some of its members on social media.
The effort to update the bylaws was spearheaded by the Atlanta Realtors Association in a June 19 letter from President Jennifer Pino to Malta.
"The hate rhetoric, discriminatory language, practices, and actions by members on social media and other avenues, while at the same time promoting the Realtor brand, should not be allowed to continue," Pino wrote. "With all of the effort we have made to promote professionalism in the industry, we cannot continue to allow the Realtor brand to be damaged by these hateful few. This must be stopped."
Several months of meetings followed, and NAR's Advisory Board recommended that the hate speech section in the NAR Code of Ethics be strengthened to include Realtors' actions outside of work.
The NAR press release added: "Any complaint alleging a violation of Article 10 as illustrated by Standard of Practice 10-5 can now be brought to a hearing panel at a local Realtor association, which will be asked to assess the circumstances of each individual case. Overall, although the proposal seeks to extend enforcement of the Code beyond its current limits of real estate transactions and real estate-related activities, this added reach will not increase a Realtor or Realtor-Principal's liability under the law."
NAR noted that its Professional Standards Committee will develop case interpretations to help understand how the code applies in various situations.
The bylaw changes include the following:
Amends Policy Statement 29, Code of Ethics and Arbitration Manual, so that Realtors are held accountable for discriminatory speech or actions even if it is not tied to a real estate-related transaction. The change goes into effect immediately.
Adds the language: "Realtors must not use harassing speech, hate speech, epithets, or slurs based on race, color, religion, sex, handicap, familial status, national origin, sexual orientation, or gender identity." The change goes into effect immediately.
Expands NAR's definition of "public trust" to include discrimination against protected classes under Article 10. This means the associations are now "required to share with the state real estate licensing authority final ethics decisions holding Realtors in violation of the Code of Ethics in instances where there is reason to believe the public trust, as expanded, may have been violated."
Requires those sanctioned to pay up to: $500 fine for a first violation; $2,000 for a second violation; $10,000 for a third violation; and up to $15,000 for repeated violations.
Realtor Magazine recently wrote about the topic, highlighting comments from St. Louis broker and attorney Bruce Aydt, who helped draft the recommendations. He emphasized that the advisory board he served on in drafting the language thoroughly considered what qualifies as discriminatory language.
"We're not talking about political statements of support on one side of an issue or another," Aydt said at a Nov. 2 meeting of the Professional Standards Committee, according to Realtor Magazine. "It's about statements that can reasonably be considered offensive or intimidating toward one of the protected classes included in Article 10."
Although some have argued that the instances of discrimination from Realtors is uncommon, Pino wrote in a recent email shared with Agent Publishing that social media and smartphones have provided evidence of some Realtors engaging in hate speech and bigotry.
"We've had instances in Atlanta, for example in another local board, where a Realtor went on a hate speech rant against a protected class on his Realtor-branded Facebook page," Pino wrote. "It doesn't take a big leap of the imagination to understand how someone who outwardly harbors hatred for a protected class would likely be unable to give them the same level of professional service and opportunity that they would give to a different group of people with whom they didn't have a strong bias against."
Prior to passage of the new rule, agents could be fired from their brokerage and released from their local board, but they could very easily affiliate with a new broker under a different association like Atlanta Realtors, and the association had no recourse, according to Pino.