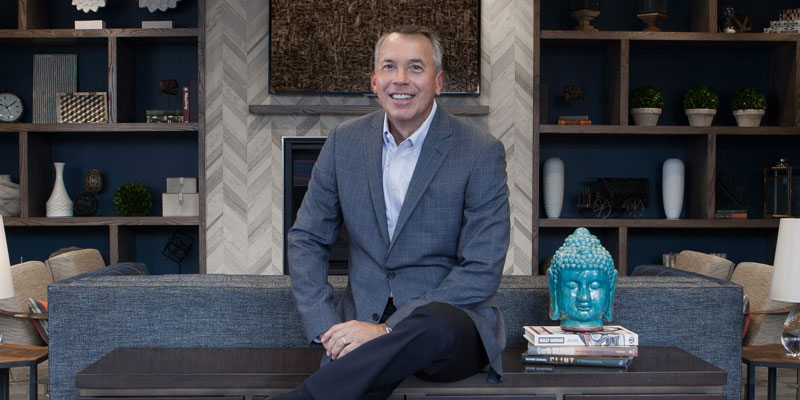 Will Holder
President
Trendmaker Homes
When Will Holder moved to Houston to work for a politician, he never imagined he'd end up in the real estate business. But something captured a deeply-held yearning when he ran across an advertisement in the Houston Chronicle that read, "We'll teach you to build homes." Eleven days later, he stepped into a business that would turn out to be the best career move of his life. Today, he couldn't be happier working for Trendmaker Homes, a company that understands that home is where life happens – raising kids, entertaining friends and making memories. As president of Trendmaker Homes, he oversees the design, sale and construction of premium homes that are as elegant as they are livable – unique structures that blend high-end architectural designs with modern lifestyle conveniences.
Holder earned his Master's of Business Administration from The George Washington University and continues to use those skills and tools every day. He is also an adjunct professor in the MBA program at the University of Houston, where he teaches a residential real estate class. "I like to think I'm training and recruiting a whole new generation of talented home builders," says Holder. He loves the retail side of the building business because it puts him face to face with clients. Every home his company builds is designed one at a time, specifically for the family members who are going to live there, at whatever stage of life they are in.
It turns out that Holder has what amounts to a passion for touring homes and can get pretty excited about homes of all kinds – new homes, existing homes, high-rise homes, townhomes, patio homes, big homes, small homes and everything in between. "I think I understand exactly what makes people fall in love with a home," says Holder. "The trick is to come up with the perfect combination of design features and match them to the client's lifestyle and budget." Holder believes a newly built home must have fashion and flair as well as function.
Trendmaker Homes has held Holder's interest for almost 24 years now. He is especially proud of his partnership with Executive Vice President Joe Mandola and the talented team that makes up this unique business model. In his spare time, Holder is actively involved in the Greater Houston Homebuilders Association (GHBA), serving as the chairman for the 2016 Benefit Home, where builder/developer teams recruit vendor donations to build homes that, when sold, will benefit the Texas Children's Hospital Cancer Center, HomeAid Houston, and the Alzheimer's Association of East Texas. Somewhere in the midst of all of this, he finds time to enjoy tennis several times a week.