Everyone knows that Houston has one of the nation's top housing markets, and we've got five very good reasons for that status.
Though Houston's housing market has been losing some steam the last couple months, there's little doubt that it remains among the strongest, healthiest real estate marketplaces in the country, a distinction that it has held from the early days of the housing downturn.
But what characteristics of the Bayou City are behind its stunning housing market? In addition to the plethora of bar, restaurant and entertainment options, here are five compelling reasons:
1. Jobs, Jobs, Jobs – No housing market can function properly without a strong overall economy to support it, and since 2008, not a single metro area has created jobs at the same rate as Houston; in fact, as this graph from the Census Bureau demonstrates, it's not even close: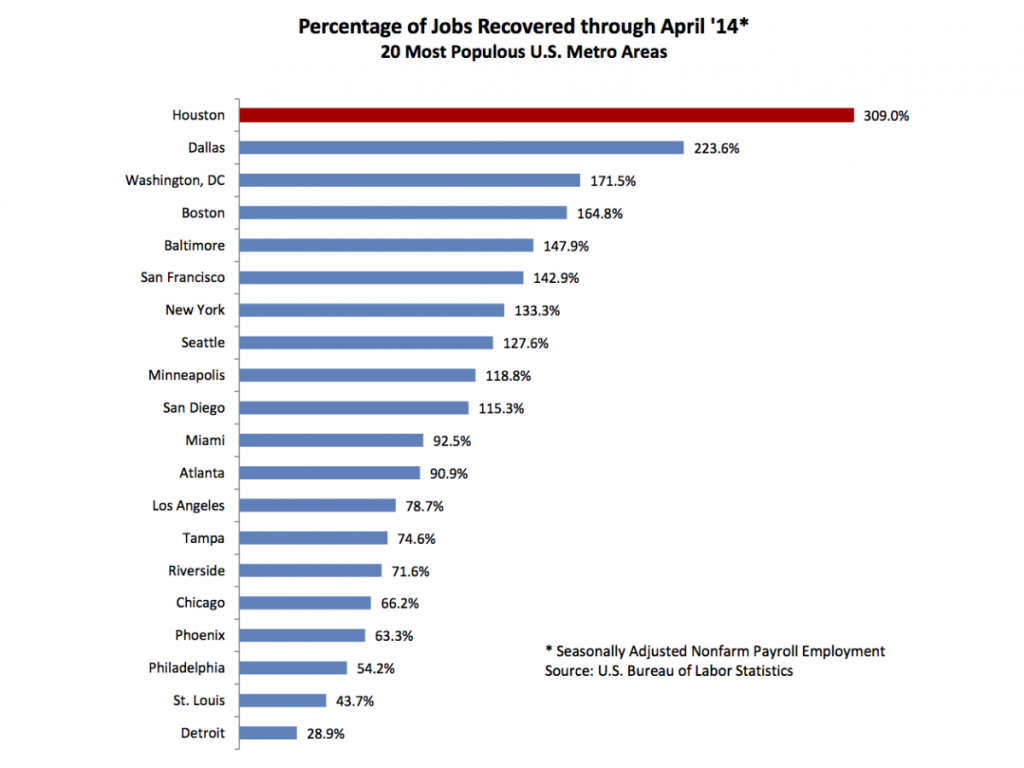 2. Fortunes Run High – Furthermore, Houston has quite a few Fortune 500 companies based in its borders. According to Business Insider, there are 26 such companies – including Conoco Phillips, Marathon Oil and Halliburton – headquartered in Houston, behind New York's 72 but ahead of Dallas' 19 and Washington, D.C.'s 20.
3. What Unemployment Rate? – Houston is also far ahead of the pack when it comes to its unemployment rate, which is hardly surprising given its rate of job growth. Here is a chart from the St. Louis Fed that shows that fact quite plainly:
4. Rich in Oil, Gas and Ports – Houston's economy is wide-reaching and multifaceted, but it's unique in its strength in the energy and shipping industries. According to Business Insider, 3.4 percent of all the jobs in the Houston area in 2013 centered on energy, and the city's port is the largest in the U.S. in terms of international tonnage handled and the third largest in terms of trade value.
5. Houston Skipped the Housing Bubble – Finally, perhaps the most direct cause of Houston's strong housing market was its complete avoidance of the housing bubble. Whereas other cities, such as Las Vegas, Miami and Orlando, saw home prices catapult by double-digit amounts, Houston's prices remained stable, and as a result, the city was on much firmer footing when 2009 came around. Here's a final graph, showing that divergence: