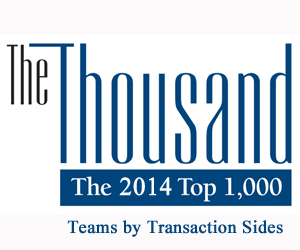 On July 8, REAL Trends/The Wall Street Journal released its Top One Thousand list for 2014. As advertised by The Wall Street Journal, REAL Trends Top One Thousand recognizes the top one half of 1 percent of nearly 963,000 licensed Realtors in the country. The prestigious awards are sponsored by both publications annually. REAL Trends analyzes the most renowned real estate agents and companies in order to compile this list, which includes the top 250 agents in the following categories: Individuals by Transaction Sides, Individuals by Sales Volume, Teams by Transaction Sides and Teams by Sales Volume.
To create this list, REAL Trends reaches out to nearly every leading brokerage and Realtor associations in request of applications. Not all eligible professionals are aware of this list or wish to share their data for the compilation of the list and are therefore not included. REAL Trends and The Wall Street Journal verify applicants through third party sources.
This year, Mike Seder was the only agent from Houston to be ranked by REAL Trends/The Wall Street Journal in the Top 50 for individuals by sales volume. Seder produced $148.97 million in sales, placing him at No. 36 on the distinguished list.
Out of 90,000 RE/MAX agents worldwide, Seder has consecutively been recognized as the No. 1 RE/MAX agent in not only Texas and the United States, but also worldwide. Seder joined RE/MAX The Woodlands & Spring office more than 20 years ago and has been a top producer in both listings and sales ever since. Seder has been honored with the RE/MAX lifetime achievement award and has been inducted into the RE/MAX Hall of Fame. Seder's vast knowledge in home construction, design and neighborhood development make him one of the most sought after agents in the Houston area. With each transaction and project, Seder works to ensure that his clients' needs come first and that even the smallest requests are met.