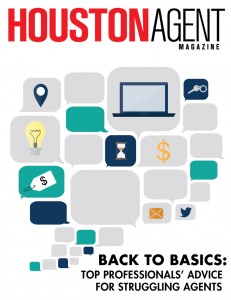 Getting a career going in real estate can be tough, and even established agents can have a hard time reaching their goals and maintaining their success. My Castle Realty owner and broker Gary Bisha has seen new agents and seasoned pros alike struggle and has helped them weather the industry's ups and downs.
"New agents come out of the real estate chools and are positive and a lot of great attitudes and ready to kind of jump into it, but it's a tough industry to break into," Bisha said. "If you're a brand new agent it's even harder because you don't have a track record to fall back on."
Keller Williams Realty Woodlands CEO and team leader Cindy Hamann advises new agents who are trying to get started to develop a business strategy goals to help them get oriented. She stresses the importance of helping agents with the customer service aspects of realty in helping them be successful. Keller Williams offers extensive training and counseling opportunities for new and experienced agents.
"You've gotta have a goal, you've got to have a plan and you've got to have some money in the bank or a support system that's going to help you until you have your closing," she said. "I think in real estate you need to understand that this is not about selling, it's about customer service."
Some new agents run into problems when they don't treat realty as a career or don't dedicate enough time to maintaining their database and keeping in touch with their contacts, Hamann said. Appearing knowledgable and confident can help new agents overcome any hesitancy in interacting with potential clients.
"As a brand new agent you need to have a good support system, good tools for your database and you need to start out with something like a newsletter to let everybody know you're in the business," she said. "What a lot of new agents don't realize if they don't have business, perception is reality. If you're confident about what you're saying and what you've learned, they're not going to ask you how long you've been in the business."
New agents also try to do to much at once in their efforts to complete a deal. Bisha recommends that they figure out what they're good at and concentrate on that aspect of real estate.
"Don't try to be a little of everything," he said. "You'll be Jack of all trades, master of none."
Hamann recently had a new agent come in and ask for help because he wasn't getting any business. When she asked him what he was doing, he told her that he was coming into the office, getting on the computer and talking to people. She advised him to go out and make contacts face-to-face.
"I said you've got to meet people," she said. "You've got to be able to go out somewhere, volunteer, meet people and let them know that you're in the business."
The nuts and bolts aspect of the business can also challenge new agents. Bisha recently helped a new agent with an appraisal issue in which his firm was on the listing end.
"We would have hoped that the buyer agent would have been handling the exchange, but they weren't really involved with the appraisal," he said. "It needed to pass a certain inspection level in line and we had to come up with comparables to support the pricing."
Bisha stepped in at his agent's request and developed a strategy to support the price, satisfying the appraiser and getting the deal done. He provides the same level of support to experienced agents. They often need help with managing their time.
"You may have a great agent who's spending 70 or 80 percent of his time or her time with a certain type of clientele and it's producing 20 percent of their profits, and 20 percent of their time is being spent on clients that are bringing in more money," he said. "But they're not spending enough time on that clientele."
Hamann said experienced agents struggle because they often lack specific goals and strategies. They become inconsistent because they stop prospecting, either because they forget or they become too busy. Hiring an assistant at the right time can help take the pressure off and give them a chance to work on their contacts and develop a strategy.
"If they don't have a business plan or a goal, that's where you first start," Hamann said. "If you don't write it down, you won't know how to get there."