New construction up in 2015, rising on the shoulders of the multifamily sector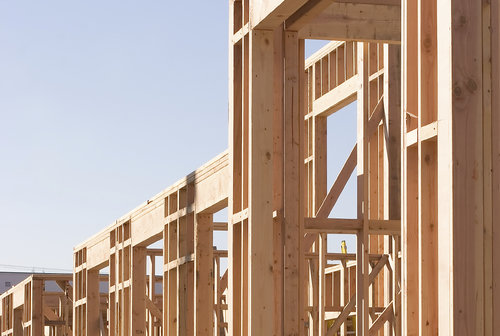 Housing starts may have been down 11.1 percent from April to May in the Census Bureau's latest report, but building permits were an entirely different story.
According to the Bureau's analysis, permits (which anticipate future housing starts) were up 11.8 percent monthly and 25.4 percent yearly to a seasonally adjusted annual rate of 1.275 million. Not since August 2007, when permits hit a rate of 1.321 million, has there been so much construction planned.
As positive as those permit numbers are, though, they come with a significant caveat – multifamily construction, as has been the case for some time now, is the principle driver of all that new construction activity.
Multifamily Construction in 2015
In May, multifamily permits hit an annual rate of 557,000. That's not only an increase of 25 percent from April and 60 percent from May 2014, but also represents the highest rate since Dec. 1986.
Other key signs of multifamily's ascendancy are:
Multifamily permits now make up 43.7 percent of all building permits. That's up from 35.6 percent a year ago and, remarkably, 17.3 percent in May 2005.
Multifamily starts have also risen in prominence. Though starts were down 10.3 percent from April to May and 4.6 percent from May 2014, they now make up 33.7 percent of all housing starts (up from 13.6 percent in May 2005).
Finally, multifamily completions have seen perhaps the most dramatic change of all, rising 36.1 percent monthly and 45.7 percent yearly. In 2005, multifamily completions comprised just 14.5 percent of the entire market, but that share has risen to 37.9 percent.
The Savior of Housing Affordability?
Shifting priorities in single-family new construction and record-low levels of housing inventory have pushed housing affordability to crisis levels in many metro areas, including our own. With so many multifamily units reaching completion in 2015 (and so many permits promising additional completions in 2016), will the market finally address those affordability concerns?
On one hand, the basic laws of supply and demand would suggest such a development. After all, multifamily completions are now at an annual rate of 392,000, and such a jolt to supply could balance out the marketplace. On the other hand, though, is the nature of all that multifamily construction. Like the new single-family home market, the lion's share of multifamily new construction is built primarily for affluent consumers. Indeed, a recent study by the Furman Center found that here in Houston, only 58 percent of new construction units are affordable to middle-income residents.
So in the end, affordability concerns may very well continue into 2016 and beyond.