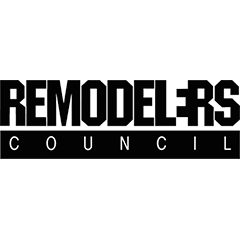 There are several smart reasons to consider renovating a kitchen, according to members of the Greater Houston Builders Association Remodelers Council.
Updating the heart of the home not only adds beauty – but also makes the space more functional. When done right, a kitchen remodel translates to a more user-friendly space for home chefs, a more attractive setting for entertaining guests and a higher resale value.
Remodelers Council members point out a number of popular improvement options:
Open it up. Rarely do today's homeowners want a separate or boxed-in kitchen, according to Rob Hellyer, owner of Premier Remodeling and Construction. "Most of the time, it's the other way around," he said. "They want walls opened up to bring the kitchen into the main living area."
Keep it bright. To showcase the open-concept kitchen, homeowners are sticking to white cabinets and light colors on the walls, Leslie King, owner of Greymark Construction, explained. "It's all about being light, bright and airy," she said. "Everyone wants soft, light colors – whites and off-whites."
Address all the nooks and crannies. King said that most of her clients are more interested in what's inside the cabinets these days. They want "all the bells and whistles," soft-close door hinges, inserts, pullouts, room for appliances, and cabinets that hide dishwashers and refrigerators.
Invest in high-end appliances. A new stove or refrigerator can be more than just appealing to the eye – updating appliances might also save money on the next energy bill. King and Hellyer said they both install a number of high-end products in their kitchen remodel projects.
Make a statement. More and more homeowners are using contemporary-style vent hoods as design features, King said. "They can make a big statement," she added. And Hellyer said that popular items with his clients are professional-grade cooktops and refrigerators.
Make the island a centerpiece. Hellyer and King both said that more focus is being placed on the design of kitchen islands, with King saying that clients will ask for a different, complementary color for the cabinets on the island to set it apart. Hellyer noted that prep sinks are a popular island addition, saying "We have done some of the most enormous islands lately. People use contrasting island cabinetry and countertops."
Pay attention to finishes. Choosing contemporary paint colors, flooring and countertops can make all the difference. King said that her clients are sticking with white painted cabinets instead of stains, andHellyer said that granite continues to be a popular choice for countertops. Both agree that hardwood floors are being used more often in kitchens lately.
Ask for a helping hand. Renovating a kitchen can be a challenge – and with so many options for creating a better space, it is important to work with a professional. The Remodelers Council is a good place to start.
---
King joined the Remodelers Council in 1997 and served as president in 2001. She was also the second woman elected as president of the GHBA. Hellyer has been named Remodeler of the Year for two years. He is a long-term member and board member of the Remodelers Council, serving as president in 2011.