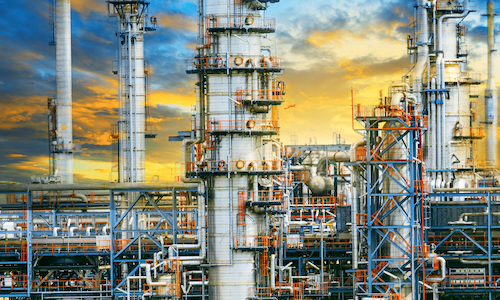 U.S. companies now hold 487 million barrels of oil, according to the U.S. Energy Information Administration's monthly report. The figure is significant because it represents the highest stock for early November in at least 80 years, and has major implications for price and consumption leading into 2016.
On Thursday, West Texas crude, the U.S. benchmark for crude, fell by more than $1 to $41.75 a barrel, while the global benchmark, Brent crude, traded down 29 cents to $43.77 a barrel. Both are below the $50 to $90 per barrel Goldilocks Zone that allows peak real estate performance in Houston.
"Oil continues to pile up," Andy Lipow of Houston energy consulting group Lipow Oil Associates told the Houston Chronicle in a recent interview. "Crude oil inventories are about 30 percent higher than they were last year, or 110 million barrels."
For most in the U.S., and elsewhere, the low price of crude is a godsend, helping to alleviate high gas prices, which has translated into higher personal savings and lower operating costs for many companies. However, in the Bayou City, often referred to as the nation's "energy hub," low gas prices mean a weakened local economy.
Oil Market Bears Consider Skipping Hibernation
Already, weak crude value has forced several locally-based energy companies to cut workforces by the thousands, and new forecasts of falling demand are likely to extend the trend – a situation likely to be exacerbated by increased production in the U.S.
"Over the past few months prices have been receiving support from declining U.S. oil production," Phillip Futures Analyst Daniel Ang said in an interview with The Wall Street Journal. "However, with U.S. production increasing again, prices are losing their support…pushing momentum back into bearish territory."
According to the International Energy Agency, global oil demand growth is projected to slow from 1.8 million barrels a day this year – the highest consumption rate in five years – to 1.2 million barrels a day in 2016. However, despite the low projection, at the end of September, countries in the Organization for Economic Cooperation and Development held a record crude supply of nearly three billion barrels.
In the event of a particularly harsh winter, the large stockpile of reserves could "protect the market from a supply crunch," the IAE said, but current forecasts – thanks in part to the strongest El Niño recorded in 18 years – suggest mild winters for both the U.S. and Europe.
The report read: "If it turns out to be true, bulging stock levels will add further pressure and oil market bears may choose not to hibernate."
The Oil Effect in Houston
The effects of falling oil demand and the value of crude have and will vary from country to country and metro to metro, but in Houston, where energy is one of the city's cornerstone economic sectors, the stakes are particularly high.
In October, the Houston Association of Realtors reported a double-digit drop in sales, attributing the dip to the seasonal slowdown and earlier drops in crude value.
Faltering oil prices have already prompted companies such as financial services group Credit Suisse to adjust their economic projections for Houston and Texas for as far out as 2017. The group went as far as to revise construction industry growth for the state from an increase of 16 percent to a drop of 20 percent. But that was when most expected the price of crude to bounce back. Instead, it has tumbled even further.
The most recent data from the Greater Houston Partnership, which monitors the city's economic activity, highlighted several red flag indicators that may reflect future trends should the price of oil remain stagnant or fall further, including:
Year-to-date, manufacturing and energy employment fell by a combined 18,200 from their peaks.
For the first nine months of 2015, building permits totaling $6.1 billion, both residential and commercial, fell 11.8 percent from $6.9 billion during the same period last year.
While the Houston Purchasing Managers Index, a short-term leading indicator for regional production, registered a marginal 0.7 percent increase in September, the city's PMI has fallen below 50 for nine consecutive months. That's the most since the 10-month stretch between November 2008 and August 2009 – a result of the Great Recession.