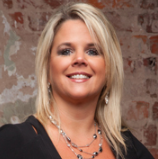 What was your first job in the realty industry? When I first started in the business, I was an independent agent at Coldwell Banker, United. My first year, I managed to close over $100,000 in commissions which was great then! After that year, I went to RE/MAX where I stayed for 14 years. This past October, I decided to branch out and open my own real estate company, Infinity Real Estate Group.
What do you do to relax when you're stressed? I enjoy being with my family- and my boys. From boat rides, to swimming, and traveling !
Where did you grow up? I grew up and have lived in Pearland, Texas my whole life.
Growing up, what did you want to be? As a third-generation Realtor, I actually wanted to be in the dental field at first, but I always had an interest for real estate. After going to dental school, I realized my passion was for real estate!
Where is your favorite place to hang out? I really enjoy being on the water anywhere, whether that be at the local beach or lake.
What do you love most about the industry? I love all of the people and the situations that I encounter. Everyone and every situation is different, but they all have one common goal, which is to buy or sell real estate. I want to be that person to help them!
How do you distinguish yourself from the crowd of agents? I think my passion for the industry and care that we put into our clients. That plus, my systems and processes really set my team and I apart from the rest!
What is the most difficult aspect of your job? I would say not being able to help everybody! Everyone's situation is different, and you want to help everyone. But you can't.
Where do you go to network and meet new clients? My team networks very heavily in the community here in Pearland and surrounding towns on school functions, city functions, food drives, and more. We also network heavily with agents all over the Unites States through my business coach, which we now work for as well.
What has been your greatest accomplishment? Hiring my business coach. Four years ago, my assistant at the time and I were stuck doing the same production and were unable to take on any more. Four years later, my assistant is now my office manager and runs my team of 16, and have quadrupled our business. It is hard work. People assume having a business coach means you will immediately see results, but you have to work really hard for it. Just like anything else! Time, determination and consistency.
What was the last good movie you saw or book you read? I read a lot of business books, but my recently favorite would be "The Greatest Salesman" in the World by Og Mandino. I love his 10 scrolls – my team and I study them constantly and try to live by those scrolls, as well as our core values.
What is your favorite restaurant? I would have to say my favorite is a local restaurant here in Pearland called Floyd's Steakhouse and Seafood. The owners are fantastic people, their food and staff are equally as incredible. They always treat us like family there.
What kind of car do you drive? I personally drive a BMW, but in this business, you tend to trade in your cars often with the wear and tear on them. I have seven wrapped Kias that my agents drive all through town. We create quite the statement with them and they are so fun.
Smartphone or paper? Both!
What is your favorite city after Houston? I love Salt Lake City. It is beautiful there. Everything about it. It is very calming as well.
In 10 words or less, what is your advice for someone new to the industry? My advice would be to get a great mentor. So many agents try doing it on their own, and fail because of lack of knowledge and training.
What's your favorite real estate iPhone/Android app? I personally love Zillow and BoomTown. I think they both offer a lot of great information for agents and consumers.