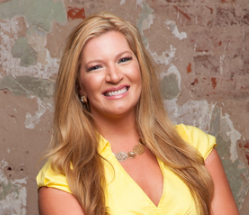 What was your first job in the realty industry? I started my real estate career in 1999 working as a new home consultant for a home builder.
What do you do to relax when you're stressed? I love to read, watch movies or work out when I am stressed.
Where did you grow up? I grew up in Elmwood, Wisconsin and then later moved to Pearland, Texas to finish high school.
Growing up, what did you want to be? I have wanted to be a Realtor since I was 12 – I don't recall wanting to do anything else.
If you could have lunch with a well-known figure (living or not), who would it be and why? I would love to have lunch with Barbara Corcoran because I think she has great advice for women in business.
Where is your favorite place to hang out? I love to hang out at my home – it is my sanctuary.
What do you love most about the industry? I love helping people the most, whether they're a client or one of my agents. To help anyone achieve their dreams is my passion.
How do you distinguish yourself from the crowd of agents? I really take the time to listen and understand our clients' needs as well as do everything we can to negotiate for their best interests.
What is the most difficult aspect of your job? The most difficult aspect of my current job as broker/owner is to delegate things that can easily be taken care of by someone else. I love to be hands on and help any way I can with our deals.
Where do you go to network and meet new clients? I meet new clients everywhere! Just last week, I met three people just running errands that will need help with real estate soon. My waitress, salon attendant and masseuse all will be using our services in the future.
What has been your greatest accomplishment? My greatest accomplishment has been building my real estate team, branding it as White Glove Realty and then opening our brokerage, White Glove Realty. We have grown to a team of 10 agents and three assistants.
What was the last good movie you saw or book you read? I just read "Eat that Frog" by Brian Tracy with my team. We have a book club and are always reading great material. This book was especially great for helping everyone stay on track and manage their time.
What is your favorite restaurant? My favorite restaurant is Perry's Steakhouse & Grill.
Architecturally speaking, what is your favorite building in Houston? My favorite building is The Gulf Building, which was built in the 1920s.
What kind of car do you drive? I drive an Audi Q7.
Smartphone or paper? Smartphone
What is your favorite city after Houston? Vail, Colorado
In 10 words or less, what is your advice for someone new to the industry? Read, follow systems, attend training, stay motivated and don't quit.
What's your favorite real estate iPhone/Android app? Wunderlist
Who are your favorite people to follow on Twitter? John Maxwell and Tony Robbins