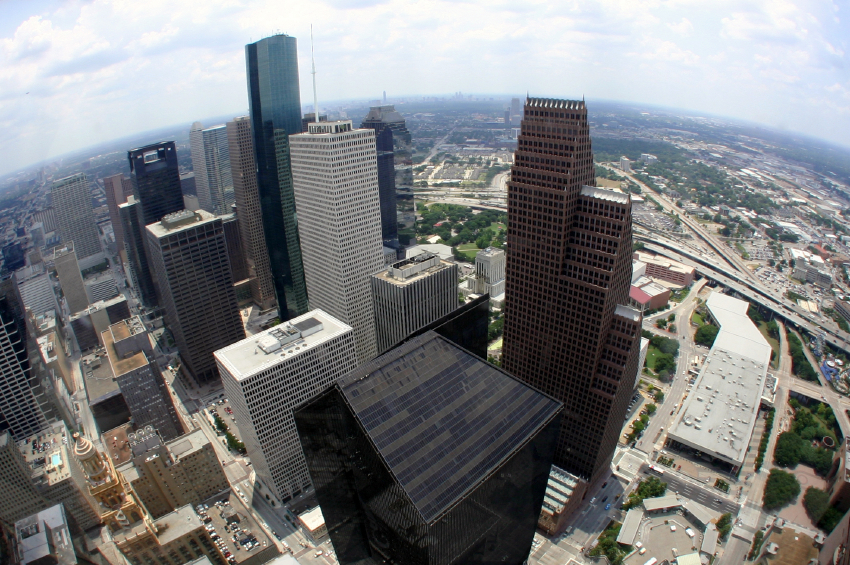 A decade ago the concept of living in downtown Houston did not appeal to many people. Concerns were expressed about crime and parking as well as lack of green space and grocery shopping. But that has all changed. In the last ten years, developers have spent more than $4 billion to transform the downtown into a vital city center, bringing a vast spectrum of assets and amenities to the area.
1. Convenience and time saving – The main benefit of living in downtown Houston is not having to fight traffic for an hour (or more) to get to work. Residents can enjoy coffee in the morning without worrying whether they'll get to work on time.
Residents can either walk to their office or hop a Houston transit bus that will take them nearby or perhaps even in front of their workplace. There is also Houston's Metrorail system. These convenient modes of transportation make downtown Houston a place where people can live and not use a car. One resident estimated that by not having to commute, she had an extra ten hours each week to spend on activities she enjoyed.
2. Diversity of residents – "There's the perception that it's just young people living downtown," said one downtown resident. "But I know couples with young children, retired couples, and empty nesters who have shed the responsibilities of a big house with a yard. The demographics are really across the board."
A Realtor who lives downtown said that of the five properties he sold recently, buyers included an older professor, a second-home buyer, a young professional, and a pair of empty-nesters looking for a neighborhood to play in on the weekends.
3. Lots of green spaces and parks – For decades, downtown Houston had been a district of office towers. People said the streets felt like concrete canyons, but now that is beginning to change. Green spaces are appearing and one of the best is Discovery Green, a 12-acre park that offers not only open space, but planned activities.
Years of planning went into this project, which is part community and exercise center, part art gallery, and part music venue. The park offers 600 free events each year. In the winter, part of the park's lake is converted into an ice-skating rink. Another perk is the park's café, The Lake House, where organic wines and vegetables are served. In addition to Discovery Green, there are 15 parks and plazas in the downtown area.
4. Lots of choices about where to live – There is a diverse selection of living quarters available in downtown Houston to fit almost any budget. Just across from Discovery Green is One Park Place, a 37-story, 346-unit, luxury high-rise apartment tower, which offers one and two-bedroom units. One-bedrooms with 975 square feet start at $2,300 per month, while the grandest two- bedroom +study comes in at 3,200 square feet for $12,000 per month,
On the other end of the spectrum, The Ivy Lofts, a new 24-story high-rise offers condos as small as 300 square feet. These units are outfitted with modular furniture, including Murphy beds which can turn the living room into a bedroom. The starting price for a so-called "micro-condo" at the Ivy Lofts is $120,000. Other condos in that building have up to 2,000 square feet, so there is a lot to choose from.
5. Sense of community – One benefit of living in downtown Houston is the sense of community some of the residents develop. "We lived in the suburbs for 29 years, but never knew our neighbors like we do here," said one resident. "We go to our favorite bakery for coffee almost every morning. It's like a breakfast club or a family of regulars."
Another resident said, "The close-knit community of downtown residents is much like the small town I grew up in. I know many of the business people and residents that I pass on the street."
6. Entertainment galore – And of course, an obvious advantage in living downtown is the close proximity to events such as the Houston Grand Opera and Houston Symphony. Theater productions, ballet, and music concerts from rock to classical abound. The list is virtually endless. Living downtown means your clients are right there in the midst of it all.
7. Sports fans' paradise – There are many nearby sports events to watch. Baseball fans congregate at Minute Maid Park to watch the Houston Astros. The Houston Rockets are an NBA team based at the local Toyota Center. The Houston Texans represent the NFL.
8. World-class medical centers – Living in the midst of some of the world's largest and best medical centers is a comforting thought. Downtown residents have access to Memorial Hermann – Texas Medical Center with its 54 facilities, the most complex medical center in the world. Several additional hospitals are nearby, including world-famous M.D. Anderson Cancer Center.
9. Shop 'til you drop – Two popular shopping malls located in downtown Houston are The Houston Center and Green Street. Both feature a variety of shops and restaurants. There are also many boutique and ethnic shops to explore.
10. Restaurants from around the world – There are many restaurants in the downtown area. A person could probably eat out every night for a month or so and still not have tried them all. Besides steakhouses and pizza parlors, the area is home to restaurants offering Spanish cuisine, Cajun food, and Latin American, Japanese and Southern comfort food.