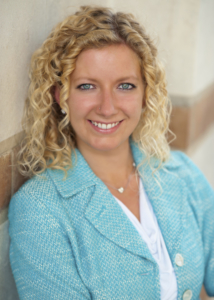 Name: Lis Harper
Title: Realtor
Company: Bernstein Realty Inc
What was your first job in the realty industry? Realtor
Where did you grow up? Indianapolis, IN
Growing up, what did you want to be? As a child I wanted to be a paleontologist or a performer
What do you do to relax when you're stressed? A good yoga class or a long walk always calms me down. And if all else fails, there's always retail therapy!
If you could have lunch with a well-known figure (living or not), who would it be and why? My all time hero is Queen Elizabeth I. I love British history and would love to know more about how she managed to rule for so long and rebuild England's empire. She's an amazing historical figure and a tough as nails lady, and I'd love to have lunch with her.
Where is your favorite place to hang out? My home – I absolutely love my home and feel so comfortable and cozy here. I always strive to help my clients find a place to call home that they love as much as I love my home.
What do you love most about the industry? The service – real estate is truly a service industry. As an agent representing clients, I aim to offer the highest quality service to my clients every day. I believe in quick responsiveness, thorough information sharing, and regular follow up. If my clients aren't happy, I'm not happy, and serving my clients is the most rewarding aspect of the job.
How do you distinguish yourself from the crowd of agents? There are many realtors in Houston, but I pride myself on rapid response and thoroughness. I'm with my clients every step of the way through every part of the process. No question is unanswered and no problem is left unsolved – and I continue to serve my clients after their move-in date too.
What is the most difficult aspect of your job? I'm always heartbroken for my clients when something out of my control happens. We all work so hard to make sure that everything goes smoothly from the house hunt to closing, and it makes me upset when something happens outside of our control that puts my clients' goals in jeopardy.
Where do you go to network and meet new clients? My brokerage firm is a woman-owned business and I happily take advantage of that status to meet new people at women's business networking events throughout the city. There's nothing more rewarding than being a part of a group of women lifting other women up!
What has been your greatest accomplishment? My work is not about personal accomplishments but about client satisfaction, but I take special pride in an experience I had with a client where I helped facilitate a quick sale that allowed my client to avoid foreclosure.
What was the last good movie you saw or book you read? Hidden Figures – I loved seeing a film that elevated untold stories about Houston's very own history and about women in science.
What is your favorite restaurant? This question is impossible for Houston. As arguably the foodie capital of the US, you can't go wrong eating out here. But I'm a lover of all things Italian so I have to claim Giacomo's as my most favorite restaurant.
Architecturally speaking, what is your favorite building in Houston? There are so many gorgeous buildings in Houston, from beautiful skyscrapers to charming bungalows, so this question is hard to answer. I think I'd have to say either The Rice or City Hall downtown. The art deco design of City Hall pays homage to the history of Houston while remaining bright and shiny as we look to the future. I love The Rice because of its rebirth, from famous hotel to historic apartment building – it has endured a lot and stood steady as it watched Houston grow.
What kind of car do you drive? Honda Fit
Smartphone or paper? Smartphone! I'm always on the go, and so I need a technical, pocket sized office I can carry with me.
What is your favorite city after Houston? Florence – I spent a semester studying there in college and have always felt the need to return. The history, art, architecture, and the food all draw me back every time I think about a vacation. As the birthplace of the Renaissance, Florence is an incredible city with a rich history that is not to be missed.
In 10 words or less, what is your advice for someone new to the industry? Stay calm, stay focused, stay patient, keep going
What's your favorite real estate iPhone/Android app? Honestly? HAR's app is so amazing. Agents and consumers really don't need to look at HAR on their desktop devices or at any other app! HAR has it all and is so enjoyable to use. I ensure all my clients download it first thing!
Who are your favorite people to follow on Twitter? Real Simple Magazine, the Property Brothers, and anyone who posts funny cat memes