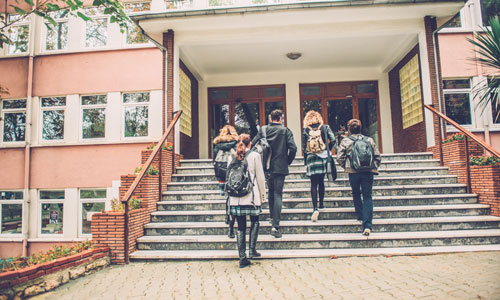 The quality of a school district is a major factor in many homebuyers' decision in where to purchase. Children at Risk recently released their 2017 school rankings, which lists both the top schools within Houston as well as in the state overall.
Debakey High School for Health Professions came in as the top high school in Houston and ranked as no. 2 statewide, behind School for the Talented and Gifted in Dallas. Debakey, which specializes in premedical education, is building a $64 million campus in the Texas Medical Center.
The Houston Independent School District, which is the largest school district in Texas and the sixth largest in the country, took up the most slots in the top 10 with a total of five high schools ranking. This is up from 2016 when three schools made the top 10.
Additionally, a third of Houston-area public high schools received an A- or higher from Children at Risk, according to the Houston Business Journal. However, around a fifth of public schools around Houston scored an F.
The highest ranking non-HISD school is Clear Horizons Early College in the Clear Creek ISD, which ranked no. 6 in Houston and no. 10 in the state.
Children at Risk calculates its school rankings annual on four measurements: student achievement index, which is based on performance on STAAR Reading and Math tests; campus performance index, which is measured comparing a campus' performance compared to others with similar levels of poverty; growth index, which measures student-level improvement on standardized test scores; and college readiness based on graduation rates, and the participation rates and scores of the SATs, ACTs and AP/IB exams.
| | | | |
| --- | --- | --- | --- |
| Houston Ranking | Campus | District | State Ranking |
| 1 | Debakey HS for Health Professionals | Houston ISD | 2 |
| 2 | Challenge Early College HS | Houston ISD | 3 |
| 3 | Performance & Visual Arts HS | Houston ISD | 5 |
| 4 | Eastwood Academy | Houston ISD | 8 |
| 5 | Carnegie Vanguard HS | Houston ISD | 9 |
| 6 | Clear Horizons Early College | Clear Creek ISD | 10 |
| 7 | Kerr HS | Alief ISD | 12 |
| 8 | Harmony School of Innovation | Harmony School of Science | 22 |
| 9 | Clements HS | Fort Bend ISD | 24 |
| 10 | Seven Lakes HS | Katy ISD | 25 |